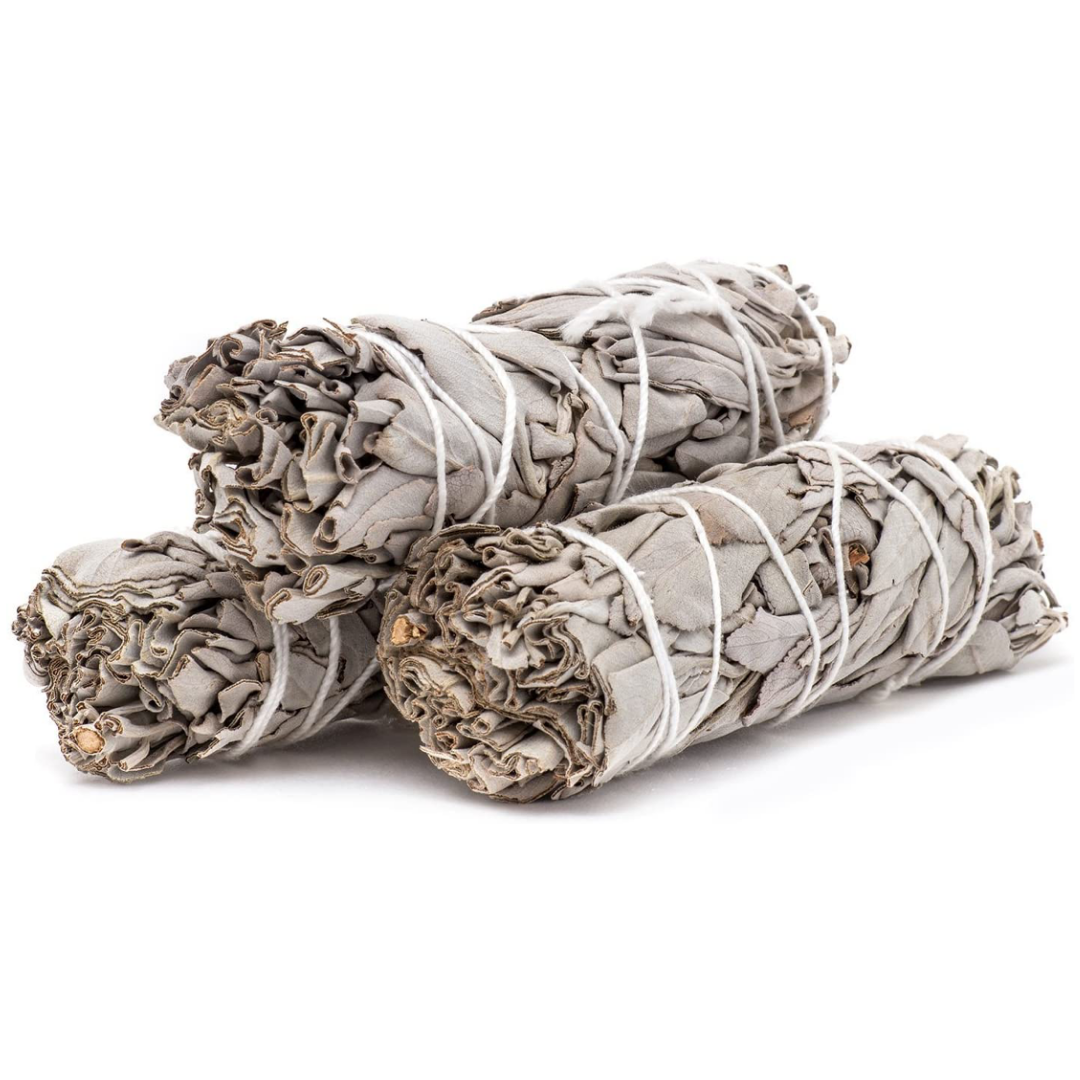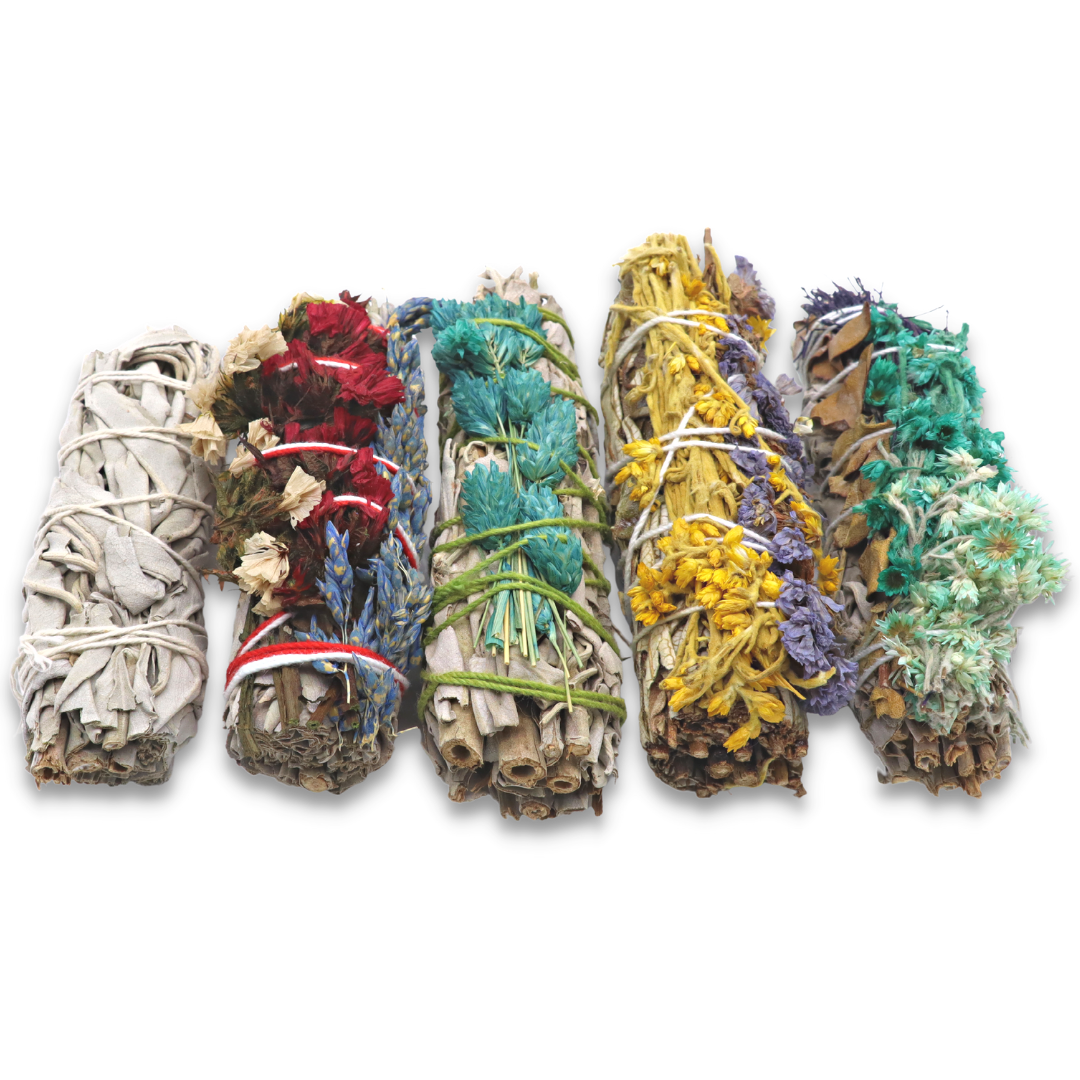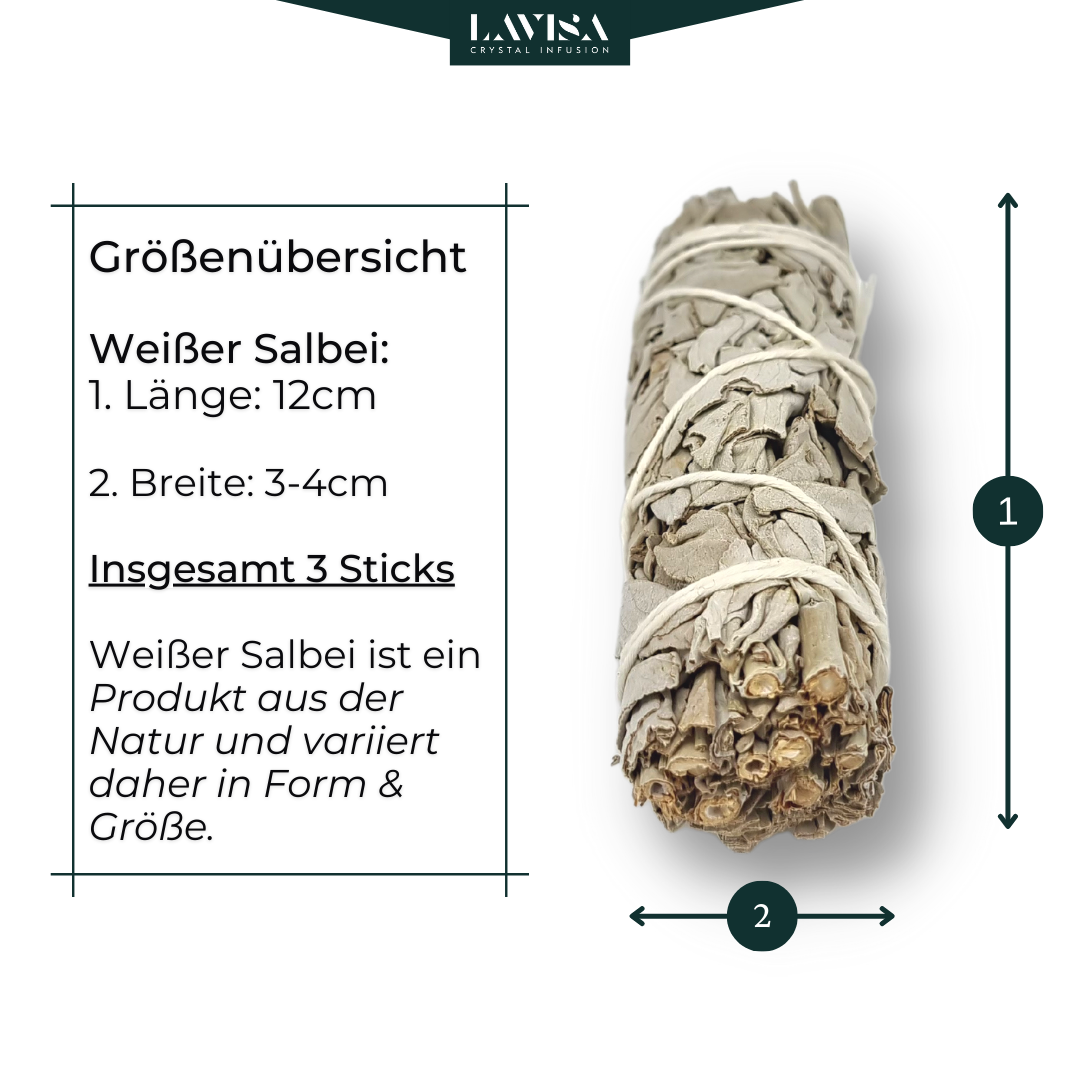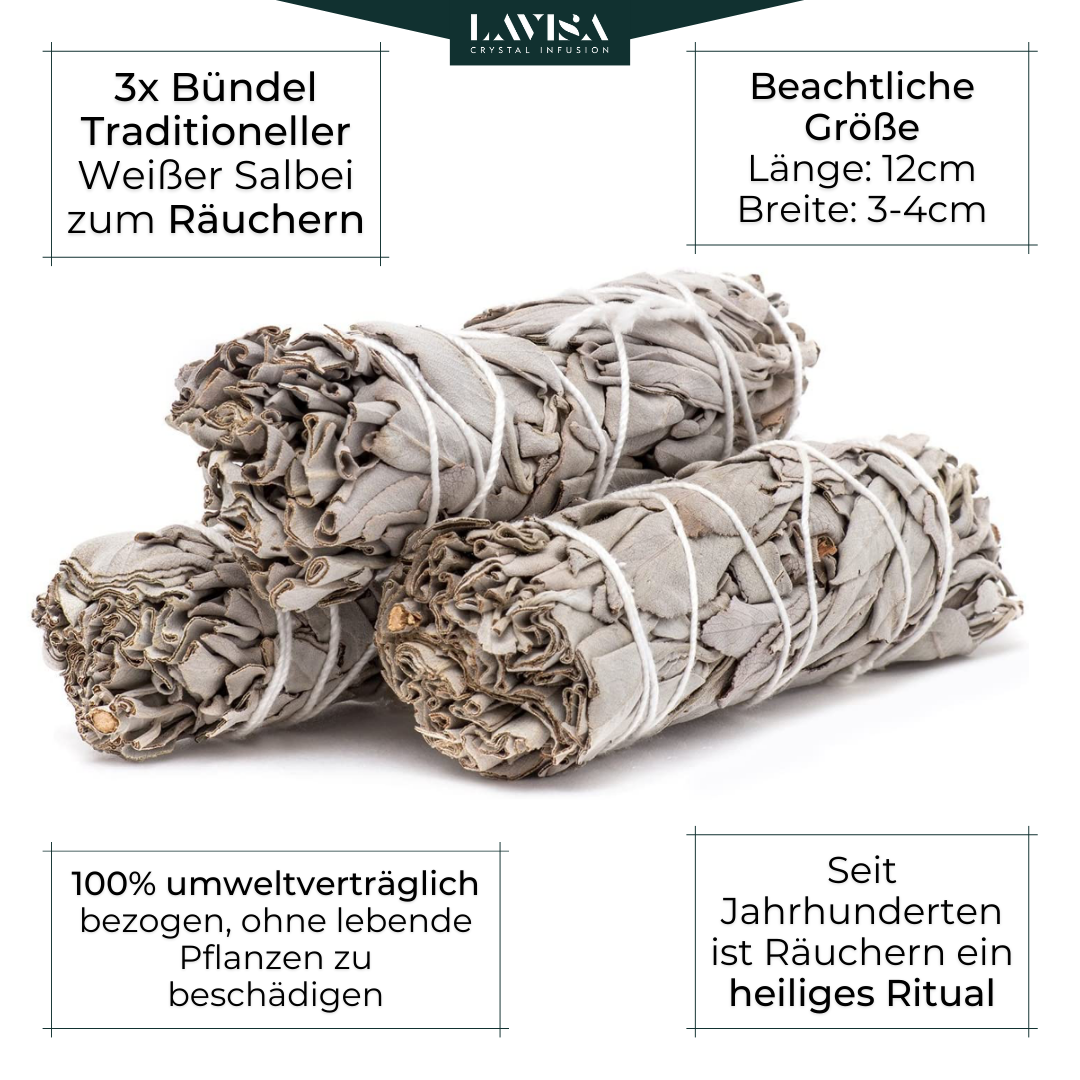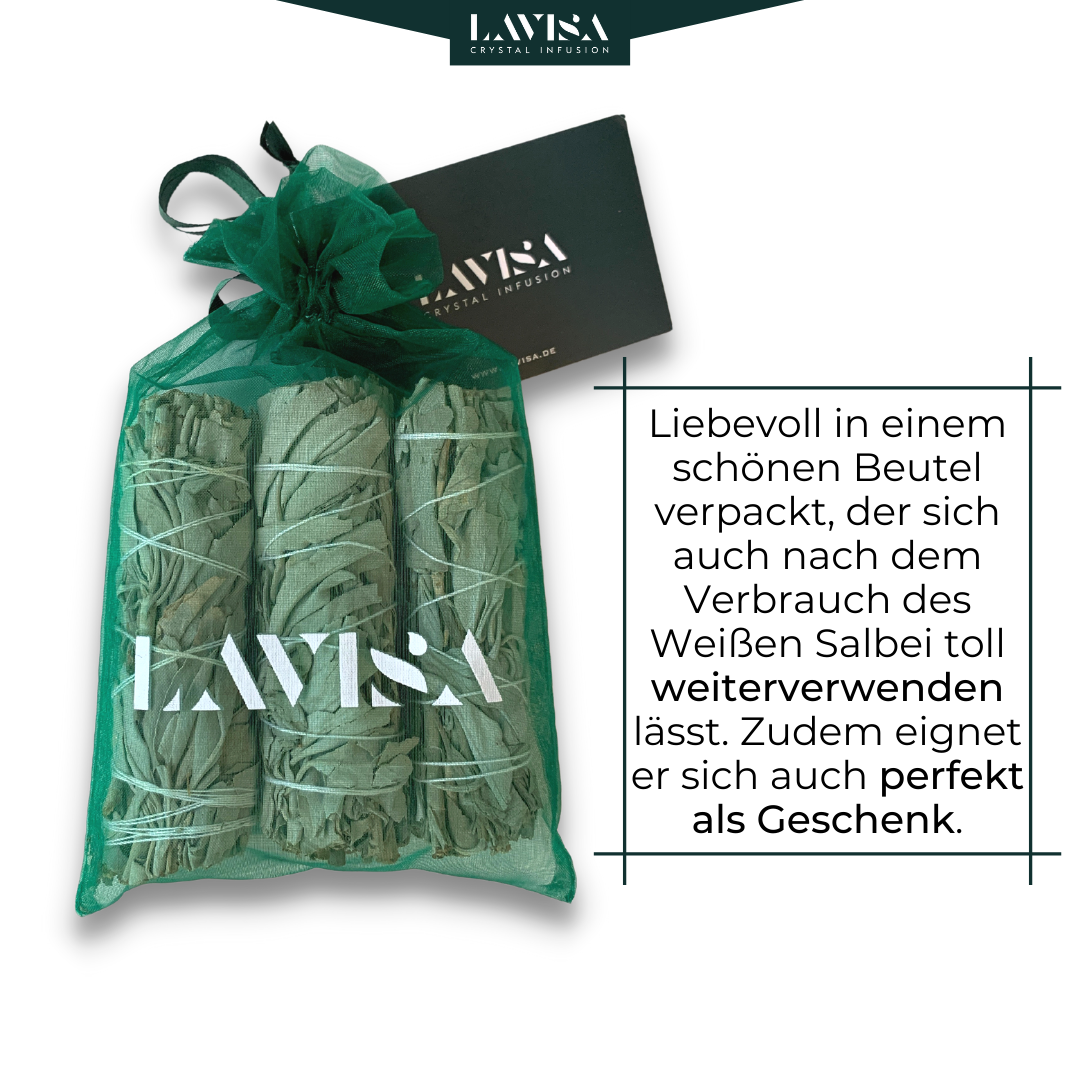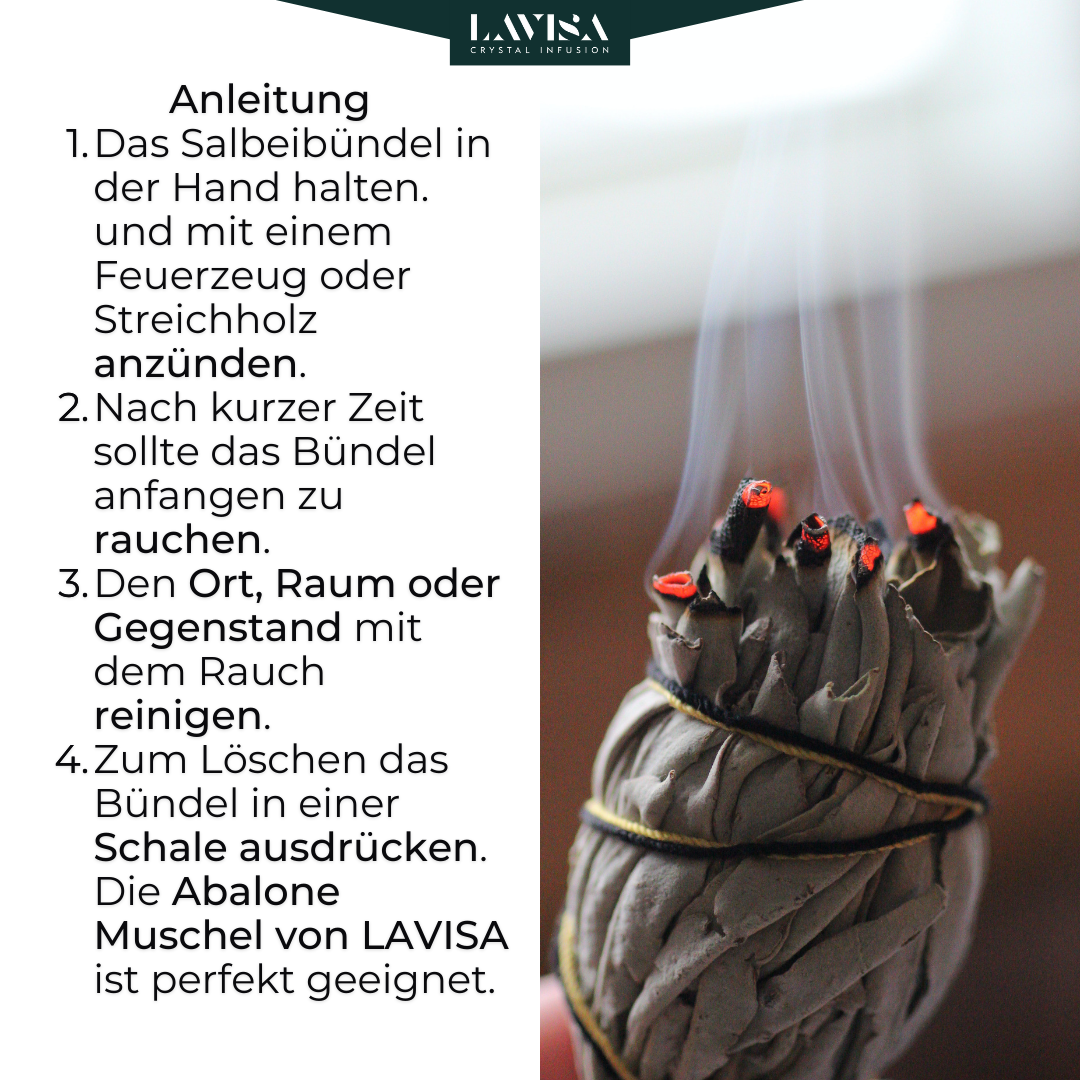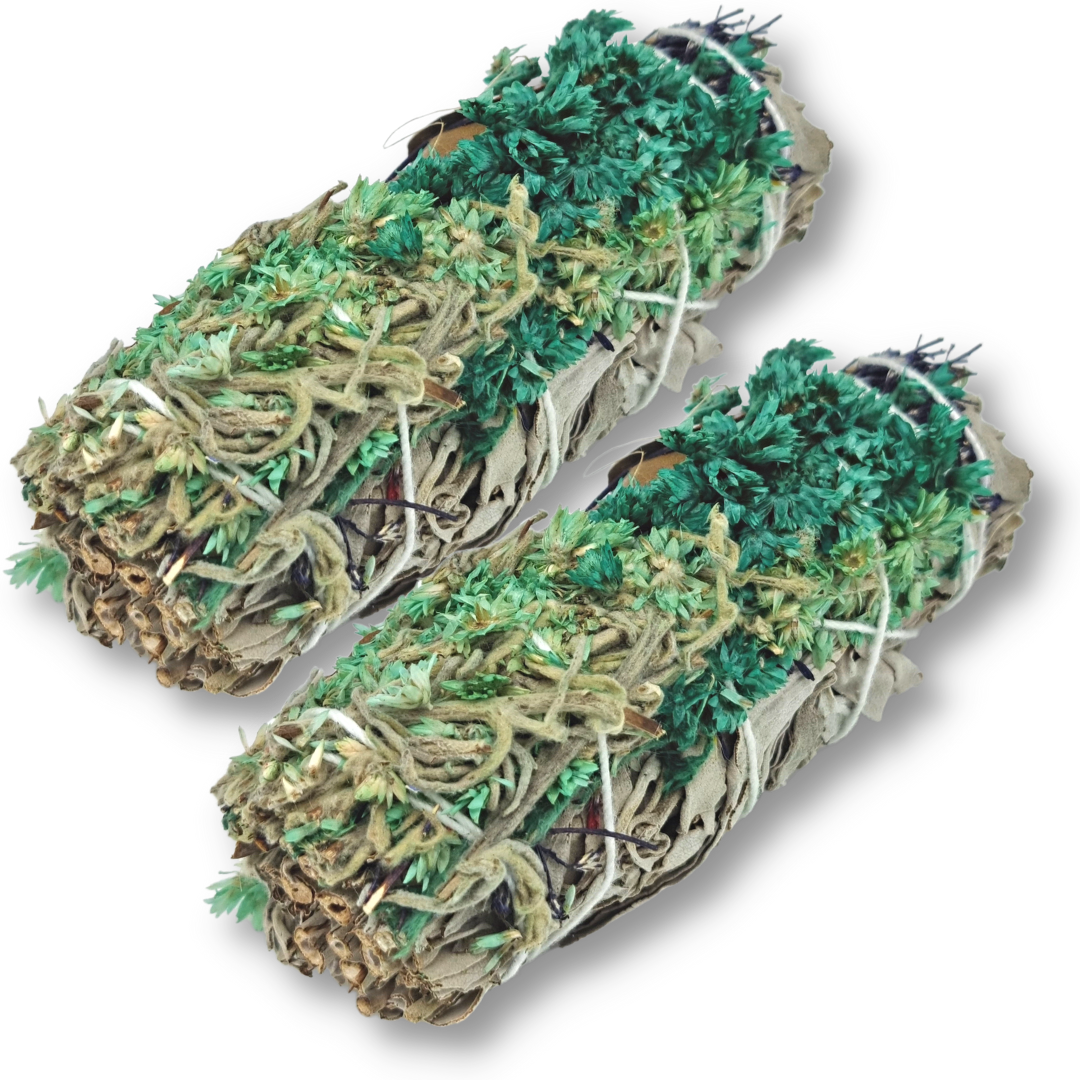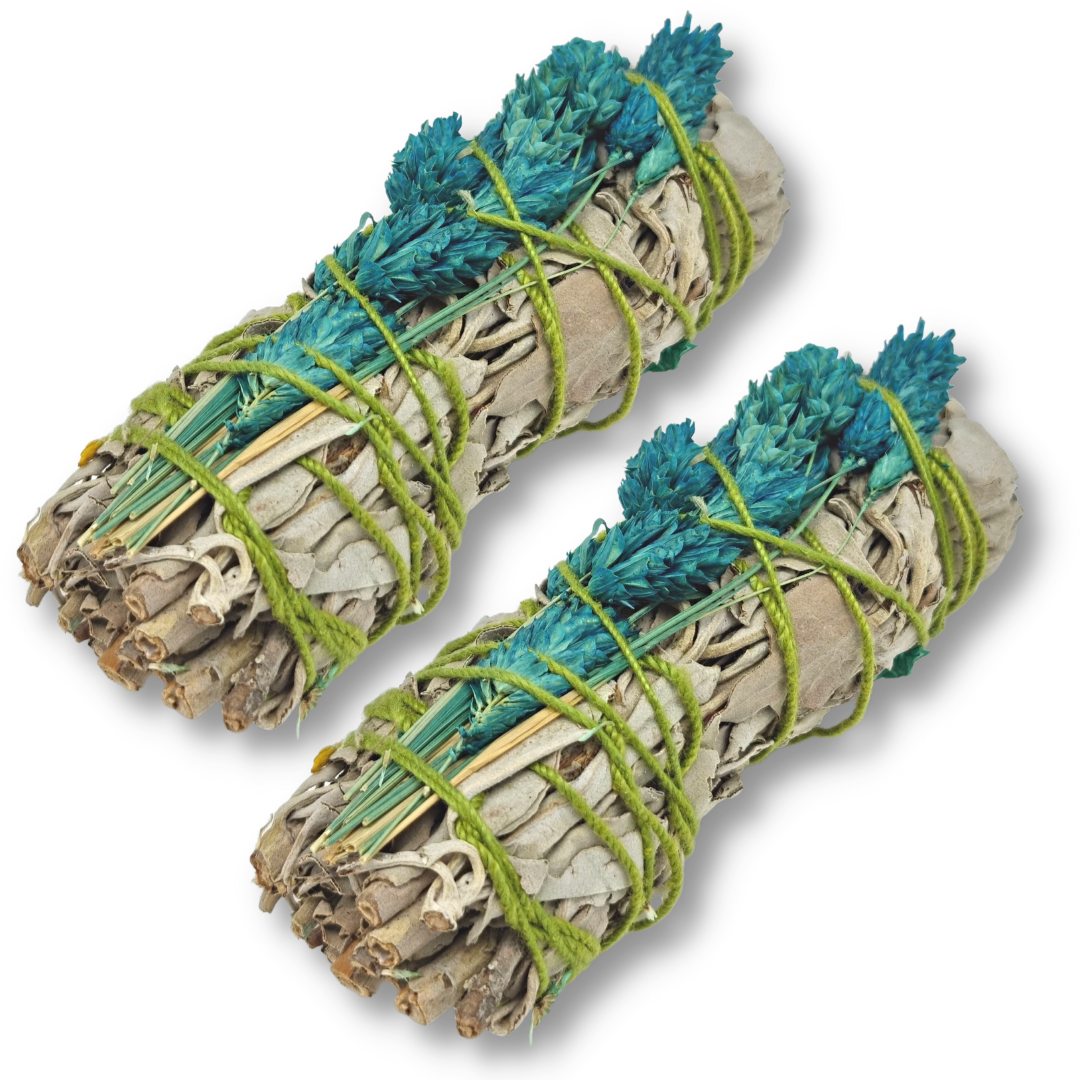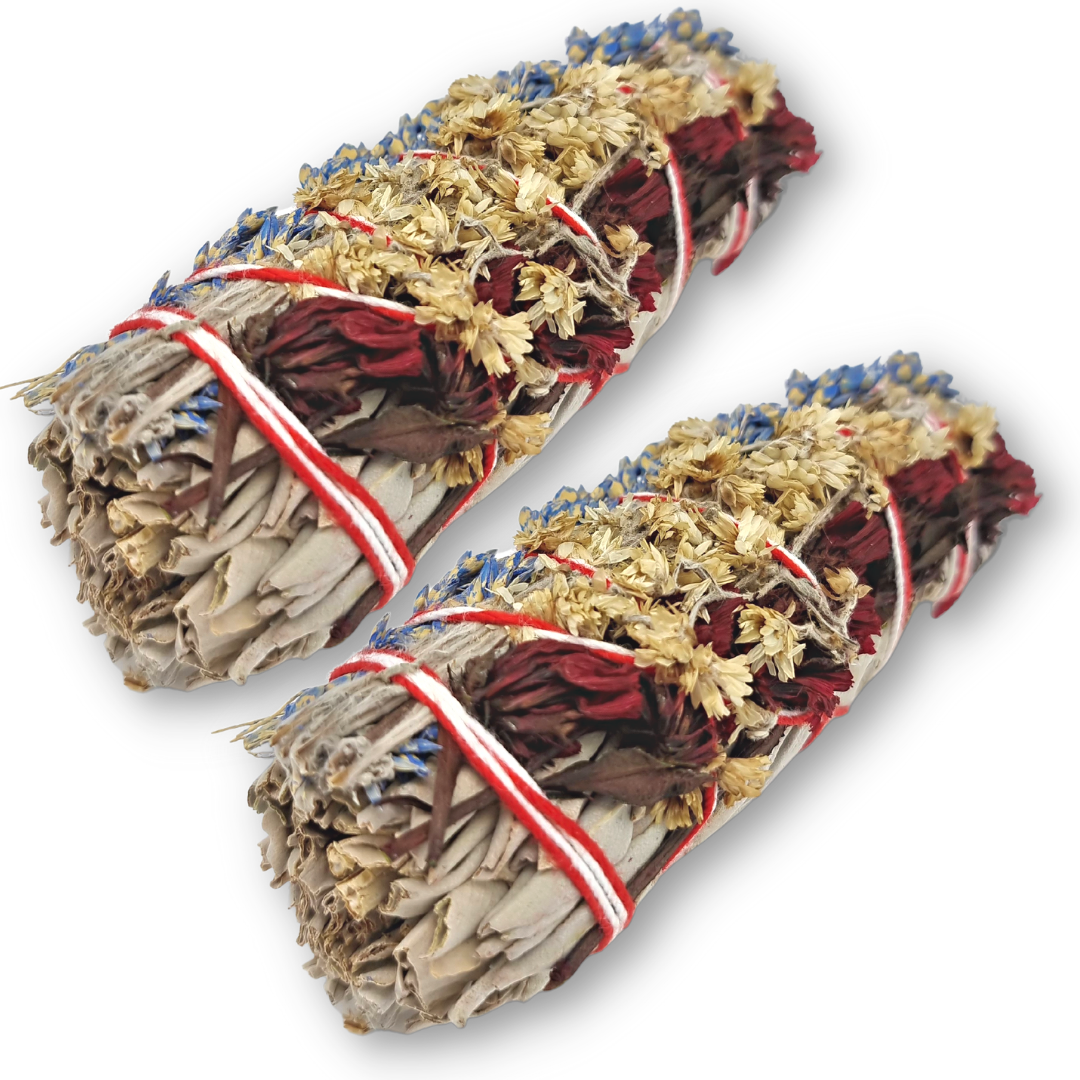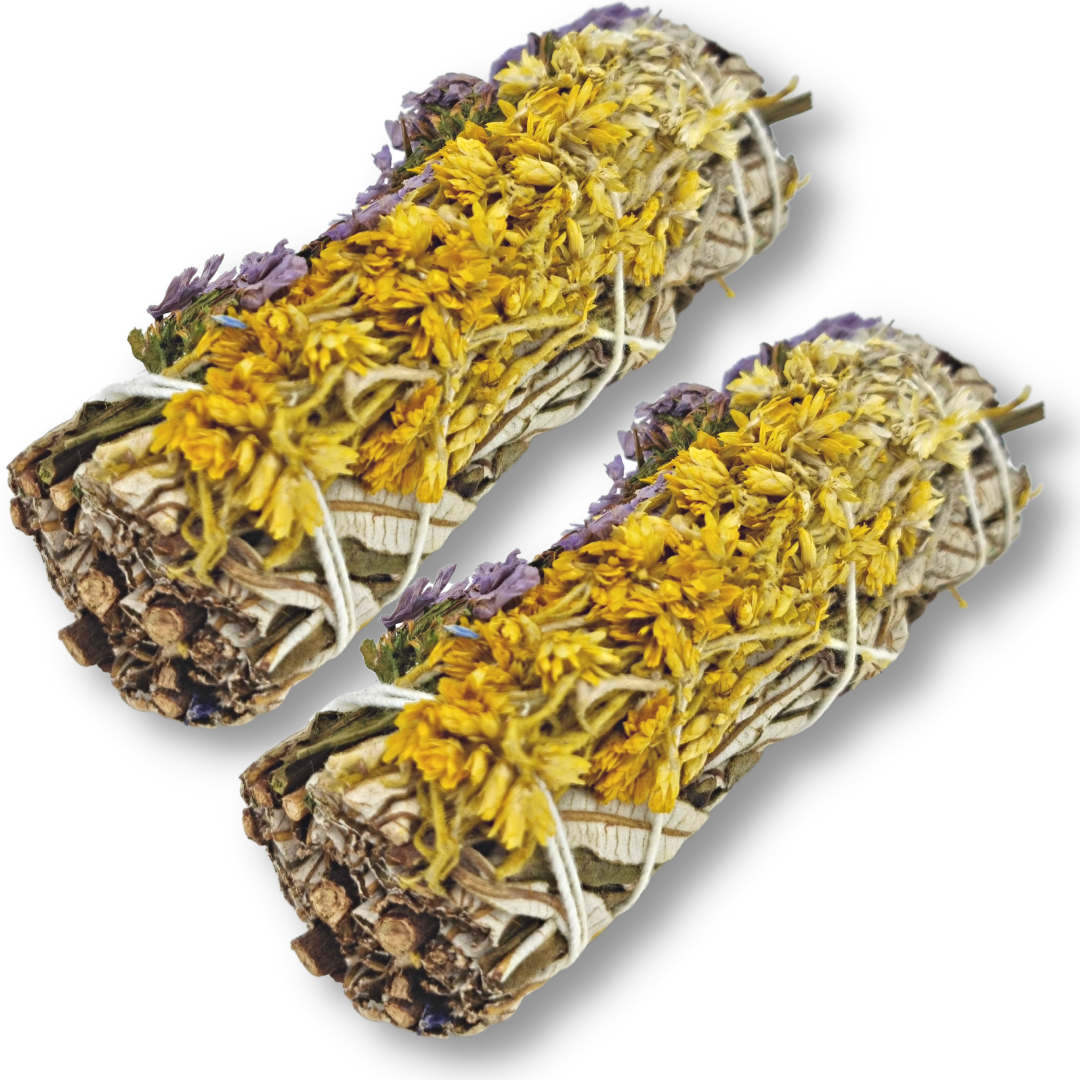 white sage
Geld-zurück Garantie
Schneller Versand aus Deutschland
Garantiert echte Edelsteine
Natural white sage
burned in traditional Native American incense ceremonies.
Increasingly, doctors, therapists and others who are concerned about the well-being of the body are also discovering the beneficial aspect of these herbs.
All sage varieties are 12 cm long and 3-4 cm wide.
Eucalyptus: Eucalyptus is used in rubs to promote health and provide energy for cleansing. Eucalyptus is considered one of the first medicinal herbs in the world. It promotes emotional balance, eliminates exhaustion and mental sluggishness, improves concentration and stimulates blood circulation.

Mullein: The mullein is a genus in the figwort family (Scrophulariaceae) and includes about 250 species that occur naturally in Europe and Asia. The genus is mainly found in the Mediterranean region. The flowers of the plant have been used to promote coughing in respiratory diseases.

Sea Lavender: It is a Mediterranean species of plant in the Plumbaginaceae family known for its papery flowers. The flowers are present in short, papery racemes ranging in color from white to pink, lilac and yellow.
Yerba Santa: Santa herb in Spanish means Yerba Santa and stands for sacred herb. The missionaries gave it its name because they were amazed by its healing powers. This 100% natural herb not only provides a beneficial scent, but is also ideal for protecting and purifying yourself and your immediate surroundings. Traditionally, it was used as an incense to ward off negative energies.
Canary grass: Canary grass ( Phalaris ) is a genus of the grass family ( Poaceae ). The species of this genus are found in temperate regions of the northern hemisphere and South America.
Instructions for use: White sage can be used in a variety of ways. It is usually tied together in the shape of a cigar to form "smudge sticks" and used for smoking. White sage exudes a tart, resinous, yet fresh scent.
Our products are 100% environmentally sourced without causing any harm to living plants.
Unsere Weiße Salbei Räucherstäbchen werden sorgfältig aus natürlichen Zutaten hergestellt, darunter der Weiße Salbei selbst und eine Auswahl feinster Kräuter. Wir legen großen Wert auf Umweltfreundlichkeit und Nachhaltigkeit, indem wir den Weißen Salbei umweltverträglich beziehen, ohne lebende Pflanzen zu schädigen. Dies gewährleistet nicht nur die hohe Qualität unserer Produkte, sondern auch den Schutz der Natur.
Um die Wirksamkeit und die heiligen Eigenschaften des Weißen Salbeis zu bewahren, empfehlen wir, die Räucherstäbchen an einem kühlen, trockenen Ort aufzubewahren und direkten Kontakt mit Feuchtigkeit zu vermeiden. So kannst du die natürliche Reinigung und Energie des Weißen Salbeis jederzeit genießen und die positiven Schwingungen in deinem Leben verstärken.
Delivery and shipping costs 
Would you like to track your shipment?
✔ DHL : Click here and enter your tracking number that you received by email.
Our shipping costs at a glance:
✔ Shipping costs within Germany
From a goods value of EUR 25.00 we deliver parcels within Germany free of charge *. Below this value, we charge a flat rate of EUR 4.90 per order for shipping within Germany.
✔ Shipping costs within the EU
Of course, we also deliver your order quickly and easily to many EU countries. In addition to the stated prices, we charge for the delivery, regardless of the weight:
From a goods value of EUR 99.00 we deliver packages free of charge . From a goods value between 50.00 - 99.00 EUR we deliver packages for 4.99 EUR . Below the goods value of EUR 50.00 we charge a flat rate of EUR 8.99 .
shipping service provider
Your package order will be sent by the shipping service provider Deutsche Post (DHL).
Please note : If the package is refused, you will have to pay the shipping costs for a new delivery. We thank you for your understanding.
Delivery of packages
We will process your order as soon as possible. You will receive your goods within Germany within 2-3 working days or in the case of advance payment within 2-3 working days after receipt of payment. The delivery time abroad is 3-6 working days after receipt of payment.
You will receive an email when the ordered goods leave our premises. If you have not received your order one week after receipt of this e-mail, please send us a message to service@lavisa.de . We will then check your order immediately.
Please understand : As soon as a package is handed over to a shipping service provider, ie leaves our warehouse, we unfortunately no longer have any influence on the shipping delivery time. Please check your tracking number for more information on shipment status (see link below). Shipping delays may sometimes occur with DHL. We are happy to help you to check where your package is or where or to whom it has been delivered, for example. Unfortunately, we cannot influence the speed of the delivery process.