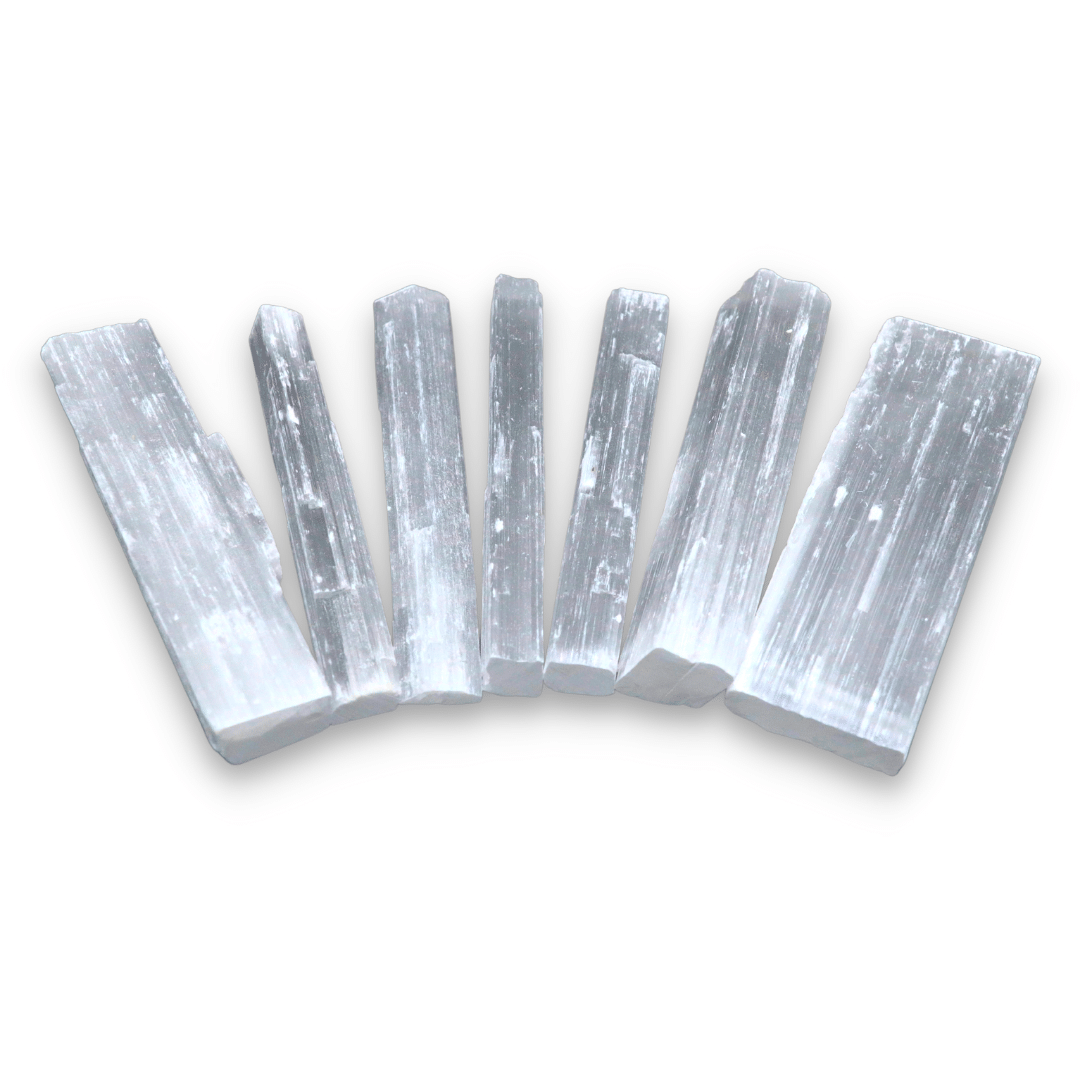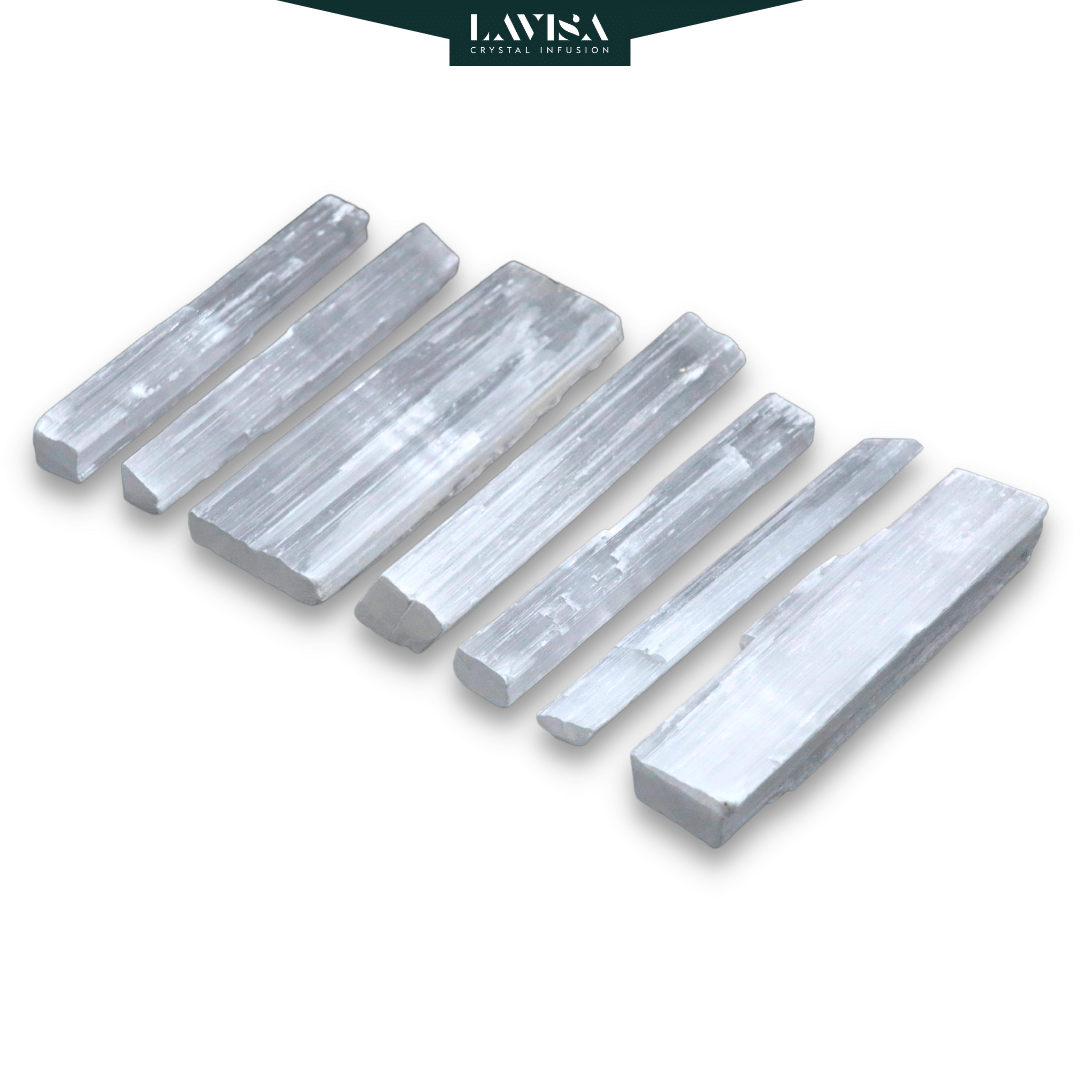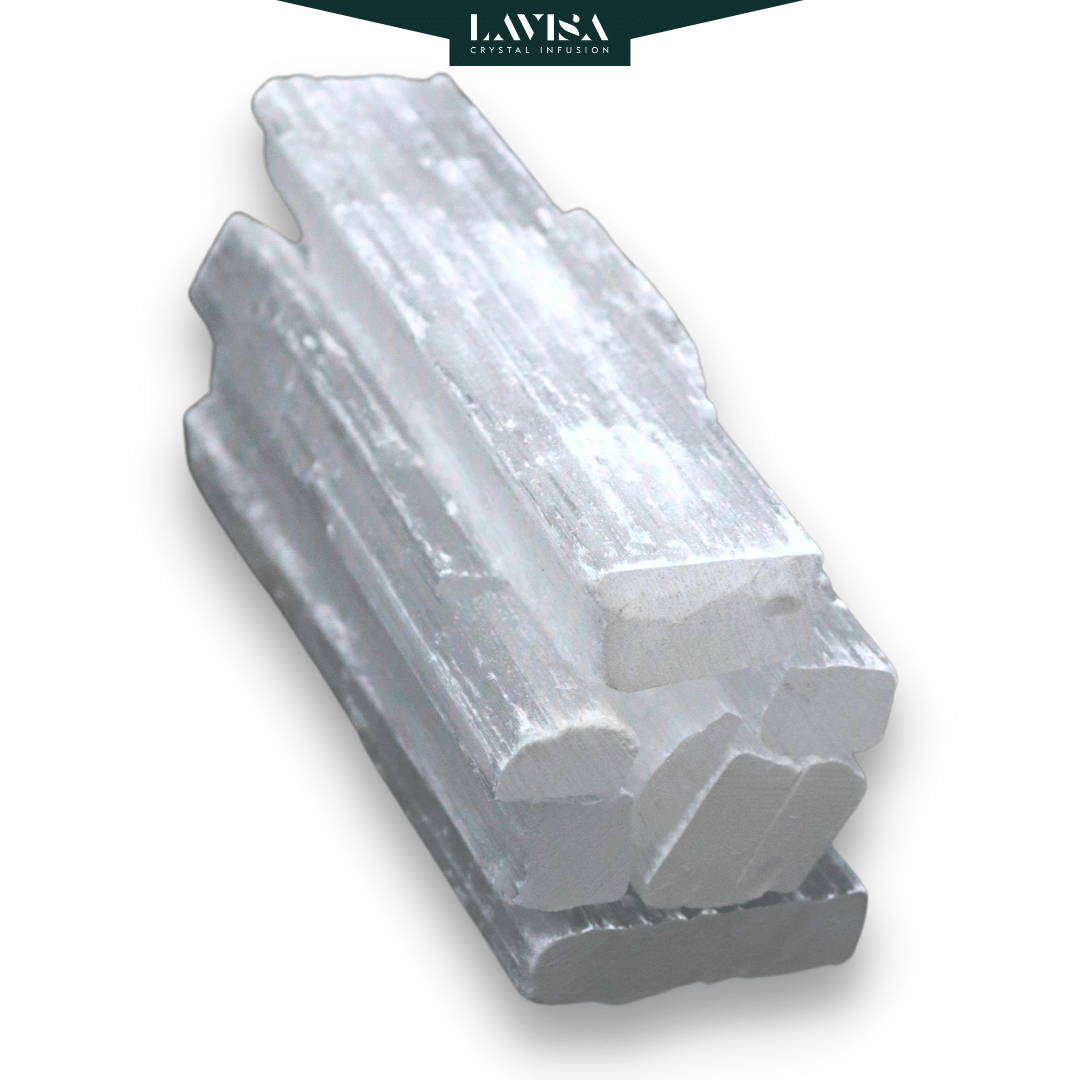 Selenite Crystal Wands
Geld-zurück Garantie
Schneller Versand aus Deutschland
Garantiert echte Edelsteine
Wonderful selenite sticks that strengthen your meditation, give you energy or serve as a wonderful decoration or as a massage stick.
Our selenite sticks are
lovingly packaged and
also perfect as a gift.
The 300g set consists of approx. 6-8 selenite sticks
. Selenite rods are natural products and therefore vary in shape and size.
Length: about 10cm
x width:
about 1-3cm
The natural products are made in Morocco! Selenites are white glassy rods that have a beautiful luster. The most beautiful specimens come from desert regions such as Morocco.
Selenite have very strong clarifying effects on the autonomic nervous system, i.e. on the brain and mind. They give wings to the thoughts and thereby inspire hormone production in the organs. This not only gives us a younger and healthier appearance, but we also feel more vitality and creativity. Helps unleash potential, protection from negativity, pregnancy, restoration of hope, success in writing and poetry, gradually starting over after loss, intuitive perception, fulfillment of desires and dreams.
100% money back guarantee if you don't like it. This is what we stand for with our proven brand!

Länge: ca. 10cm
Breite: ca. 1-3cm
Unsere Selenit Stäbe sind natürliche Kunstwerke aus Marokko, und jedes Exemplar ist ein Unikat. Das zarte, glasartige Material erfordert sorgsame Pflege, um seine Schönheit und Wirkung zu erhalten.
Lagerung: Bewahre deine Selenit Stäbe an einem trockenen Ort auf, um Feuchtigkeitseinwirkungen zu vermeiden, die das Material beeinträchtigen könnten.
Reinigung: Um Staub und Schmutz zu entfernen, wische die Stäbe sanft mit einem trockenen Tuch ab. Vermeide den Einsatz von Wasser oder chemischen Reinigungsmitteln, da sie das Material beschädigen können.
Schutz: Selenit ist empfindlich gegenüber harten Stößen und Kratzern. Achte darauf, die Stäbe vor rauen Oberflächen oder starken mechanischen Einwirkungen zu schützen.
Indem du diese einfachen Pflegehinweise beachtest, wirst du lange Freude an deinen Selenit Stäben haben und ihre energetische Wirkung in deinem Leben genießen können.
Delivery and shipping costs 
Would you like to track your shipment?
✔ DHL : Click here and enter your tracking number that you received by email.
Our shipping costs at a glance:
✔ Shipping costs within Germany
From a goods value of EUR 25.00 we deliver parcels within Germany free of charge *. Below this value, we charge a flat rate of EUR 4.90 per order for shipping within Germany.
✔ Shipping costs within the EU
Of course, we also deliver your order quickly and easily to many EU countries. In addition to the stated prices, we charge for the delivery, regardless of the weight:
From a goods value of EUR 99.00 we deliver packages free of charge . From a goods value between 50.00 - 99.00 EUR we deliver packages for 4.99 EUR . Below the goods value of EUR 50.00 we charge a flat rate of EUR 8.99 .
shipping service provider
Your package order will be sent by the shipping service provider Deutsche Post (DHL).
Please note : If the package is refused, you will have to pay the shipping costs for a new delivery. We thank you for your understanding.
Delivery of packages
We will process your order as soon as possible. You will receive your goods within Germany within 2-3 working days or in the case of advance payment within 2-3 working days after receipt of payment. The delivery time abroad is 3-6 working days after receipt of payment.
You will receive an email when the ordered goods leave our premises. If you have not received your order one week after receipt of this e-mail, please send us a message to service@lavisa.de . We will then check your order immediately.
Please understand : As soon as a package is handed over to a shipping service provider, ie leaves our warehouse, we unfortunately no longer have any influence on the shipping delivery time. Please check your tracking number for more information on shipment status (see link below). Shipping delays may sometimes occur with DHL. We are happy to help you to check where your package is or where or to whom it has been delivered, for example. Unfortunately, we cannot influence the speed of the delivery process.