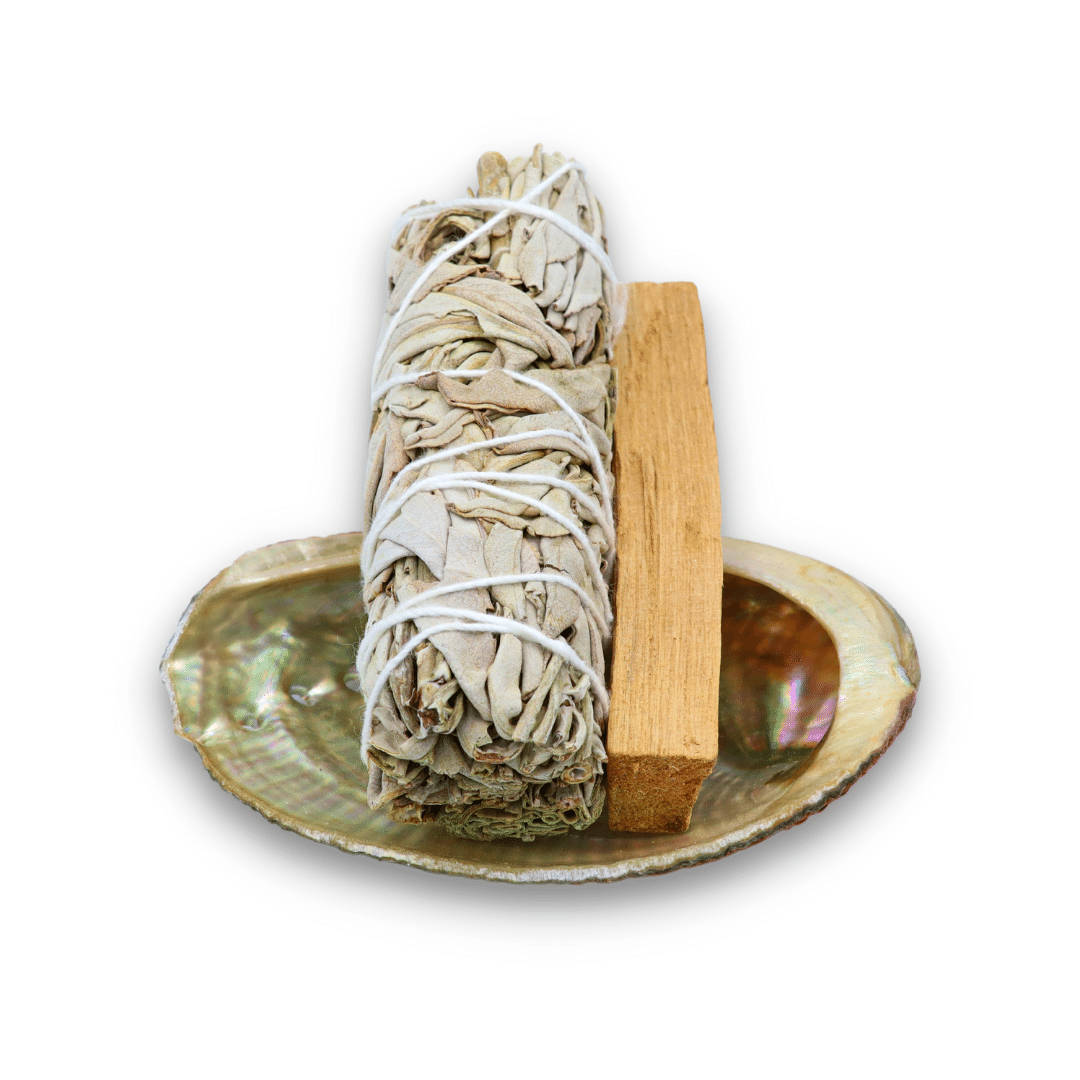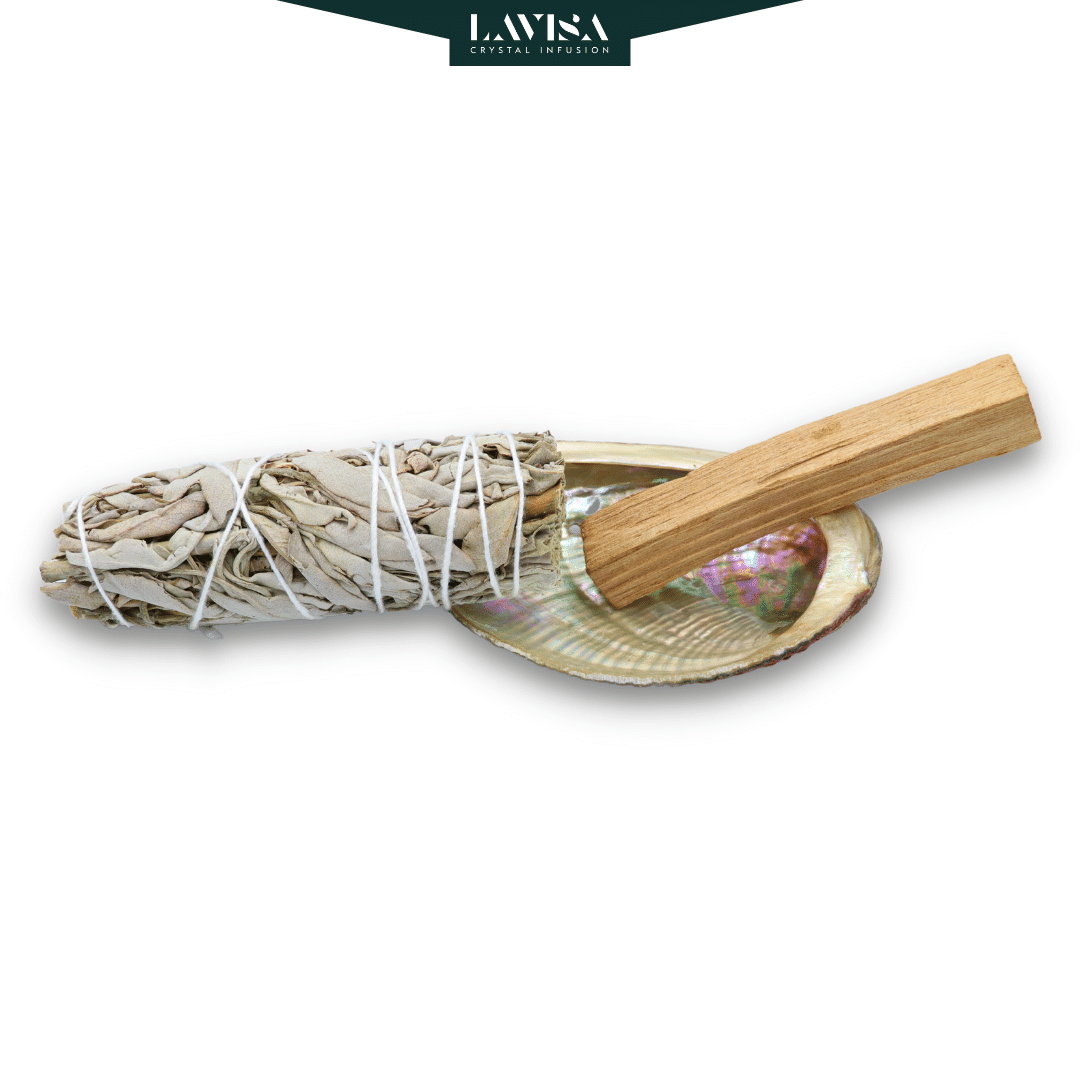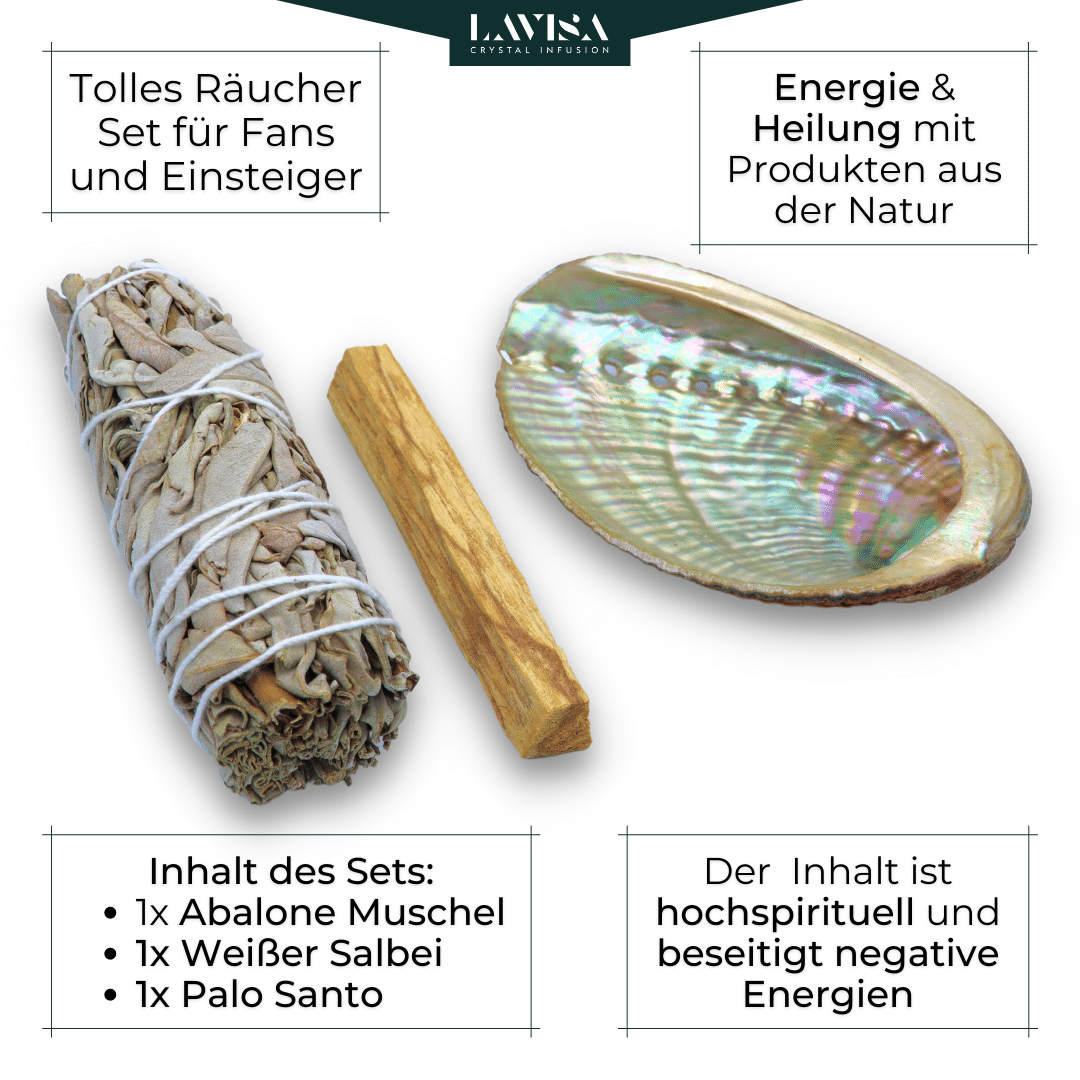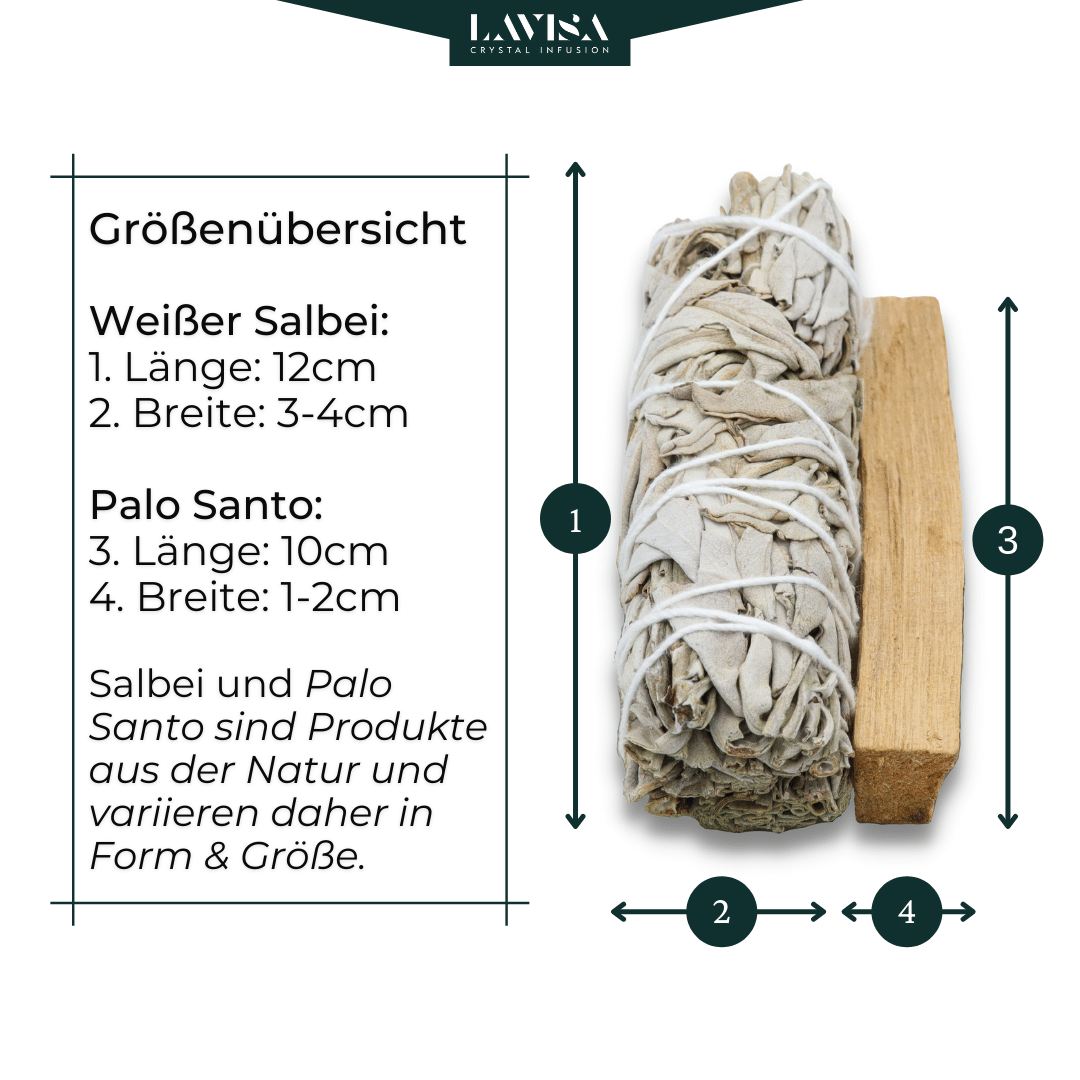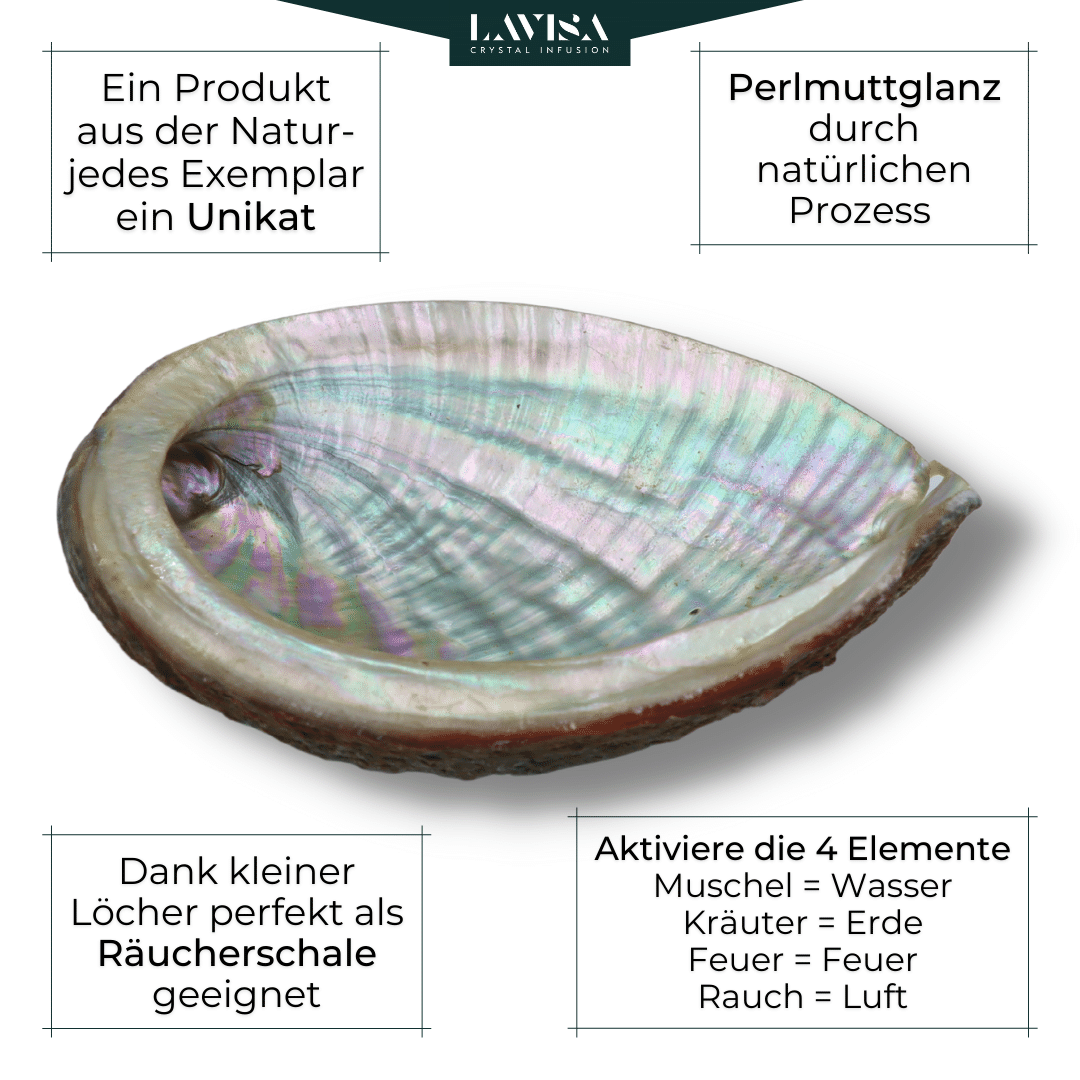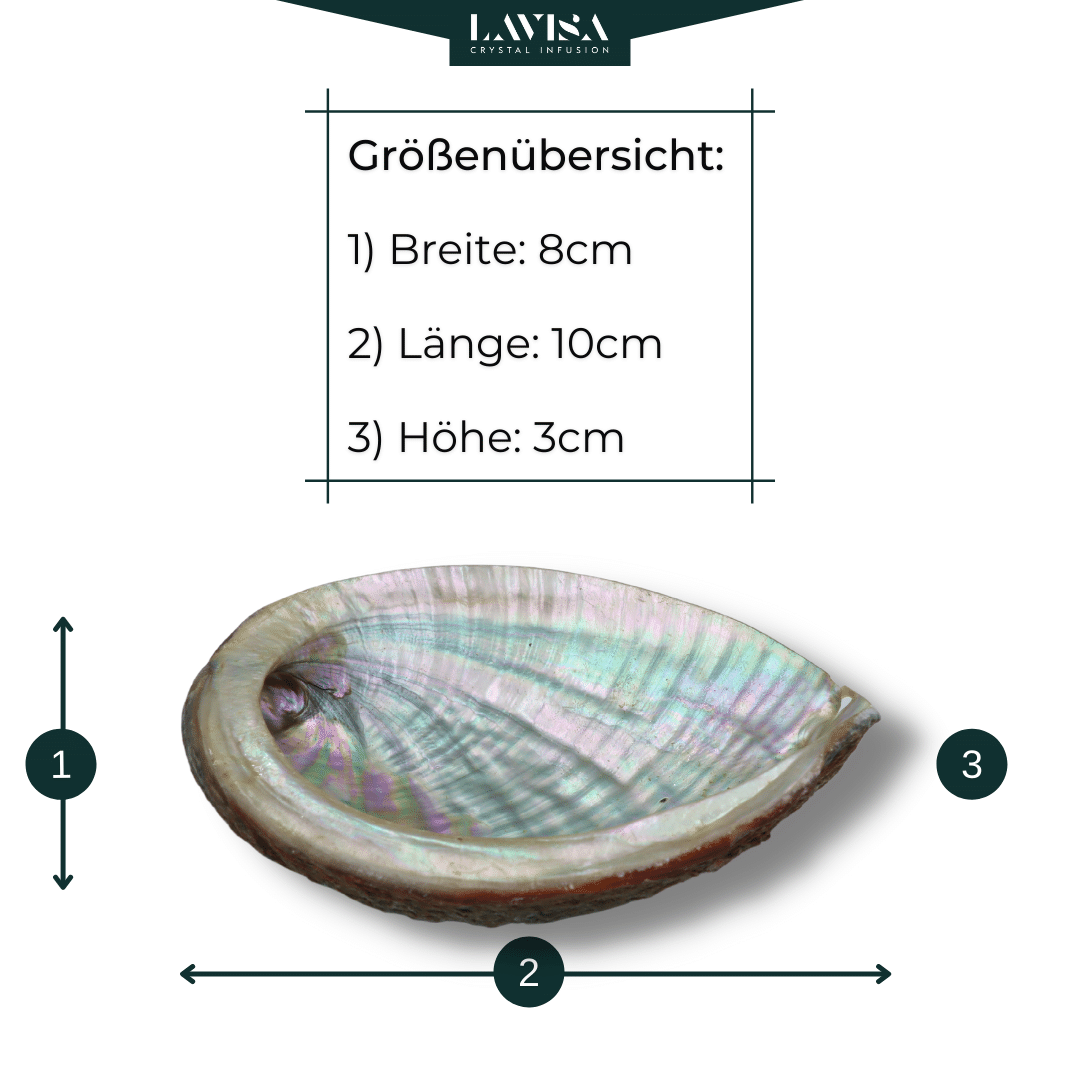 Smoked herbs starter set
Geld-zurück Garantie
Schneller Versand aus Deutschland
Garantiert echte Edelsteine
Incense has been a sacred ritual for centuries. In the meantime, doctors and therapists are also discovering the beneficial effect and proving its effectiveness!

We recommend incense during meditation, yoga or just to start the day or to fall asleep. It exudes a tart, resinous, yet fresh scent that makes guests feel welcome.

Contents of the starter set:
1x abalone shell
1x White Sage
1x Palo Santo stick
Size information:
white sage
Length: 12cm
Width: 3-4cm
Palo Santo
Length: 10cm
Width: 1-2cm
abalone shell
Weißer Salbei
Länge: 12 cm
Breite: 3-4 cm
Palo Santo
Länge: 10 cm
Breite: 1-2 cm
Abalone Muschel
Unser Räucherset besteht aus hochwertigen natürlichen Materialien. Die Abalone Muschel ist ein wahres Naturwunder und jedes Exemplar ein einzigartiges Unikat. Ihr Perlmuttglanz entsteht auf natürliche Weise und verleiht deinem Räucherritual eine besondere Note. Dank kleiner Löcher eignet sich die Muschel perfekt als Räucherschale, um Räucherstoffe sicher und stilvoll zu verwenden.
Der weiße Salbei und der Palo Santo sind sorgfältig aus der Natur gewonnen und handverarbeitet. Beide verströmen einen herrlichen Duft und werden für ihre heilenden und energetischen Eigenschaften geschätzt.
Um die Schönheit und Langlebigkeit deines Räuchersets zu bewahren, empfehlen wir:
Die Muschel nach jedem Gebrauch von Räucherresten zu befreien, indem du sie vorsichtig reinigst.
Die Räuchersubstanzen an einem kühlen, trockenen Ort aufzubewahren, um ihre Frische zu erhalten.
Mit der richtigen Pflege und Achtsamkeit wirst du lange Freude an deinem Räucherset haben und die transformative Kraft des Räucherns in vollen Zügen genießen können.
Delivery and shipping costs 
Would you like to track your shipment?
✔ DHL : Click here and enter your tracking number that you received by email.
Our shipping costs at a glance:
✔ Shipping costs within Germany
From a goods value of EUR 25.00 we deliver parcels within Germany free of charge *. Below this value, we charge a flat rate of EUR 4.90 per order for shipping within Germany.
✔ Shipping costs within the EU
Of course, we also deliver your order quickly and easily to many EU countries. In addition to the stated prices, we charge for the delivery, regardless of the weight:
From a goods value of EUR 99.00 we deliver packages free of charge . From a goods value between 50.00 - 99.00 EUR we deliver packages for 4.99 EUR . Below the goods value of EUR 50.00 we charge a flat rate of EUR 8.99 .
shipping service provider
Your package order will be sent by the shipping service provider Deutsche Post (DHL).
Please note : If the package is refused, you will have to pay the shipping costs for a new delivery. We thank you for your understanding.
Delivery of packages
We will process your order as soon as possible. You will receive your goods within Germany within 2-3 working days or in the case of advance payment within 2-3 working days after receipt of payment. The delivery time abroad is 3-6 working days after receipt of payment.
You will receive an email when the ordered goods leave our premises. If you have not received your order one week after receipt of this e-mail, please send us a message to service@lavisa.de . We will then check your order immediately.
Please understand : As soon as a package is handed over to a shipping service provider, ie leaves our warehouse, we unfortunately no longer have any influence on the shipping delivery time. Please check your tracking number for more information on shipment status (see link below). Shipping delays may sometimes occur with DHL. We are happy to help you to check where your package is or where or to whom it has been delivered, for example. Unfortunately, we cannot influence the speed of the delivery process.