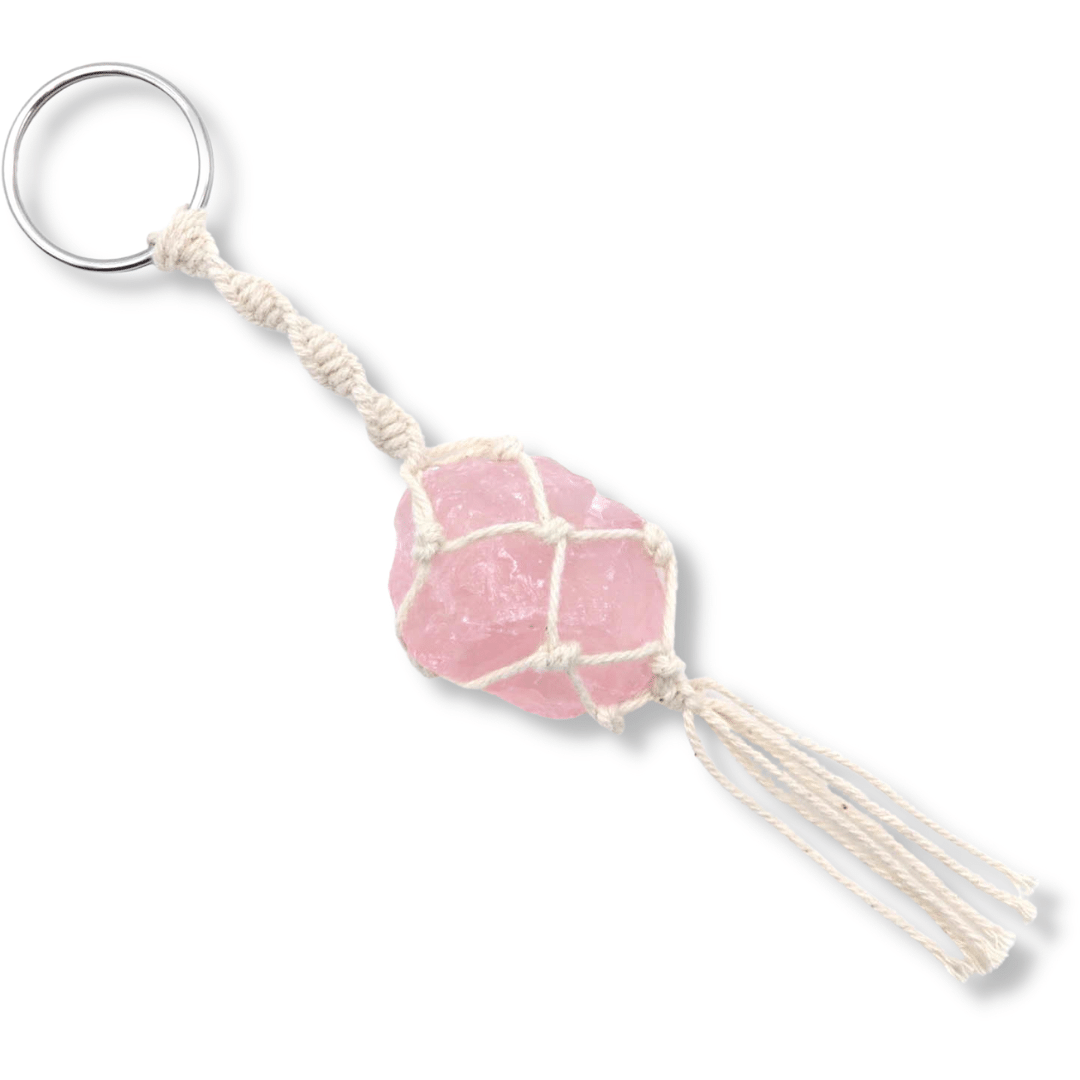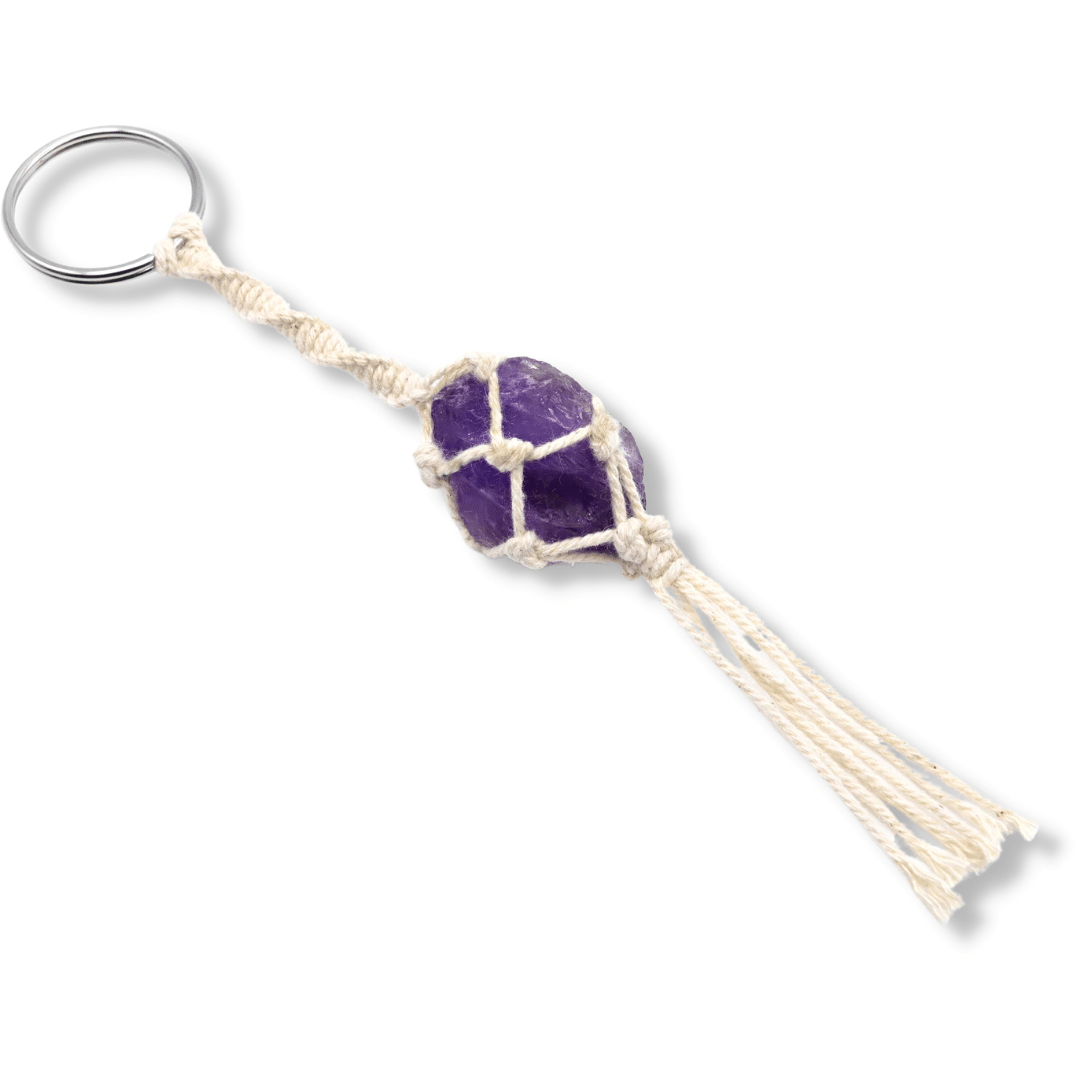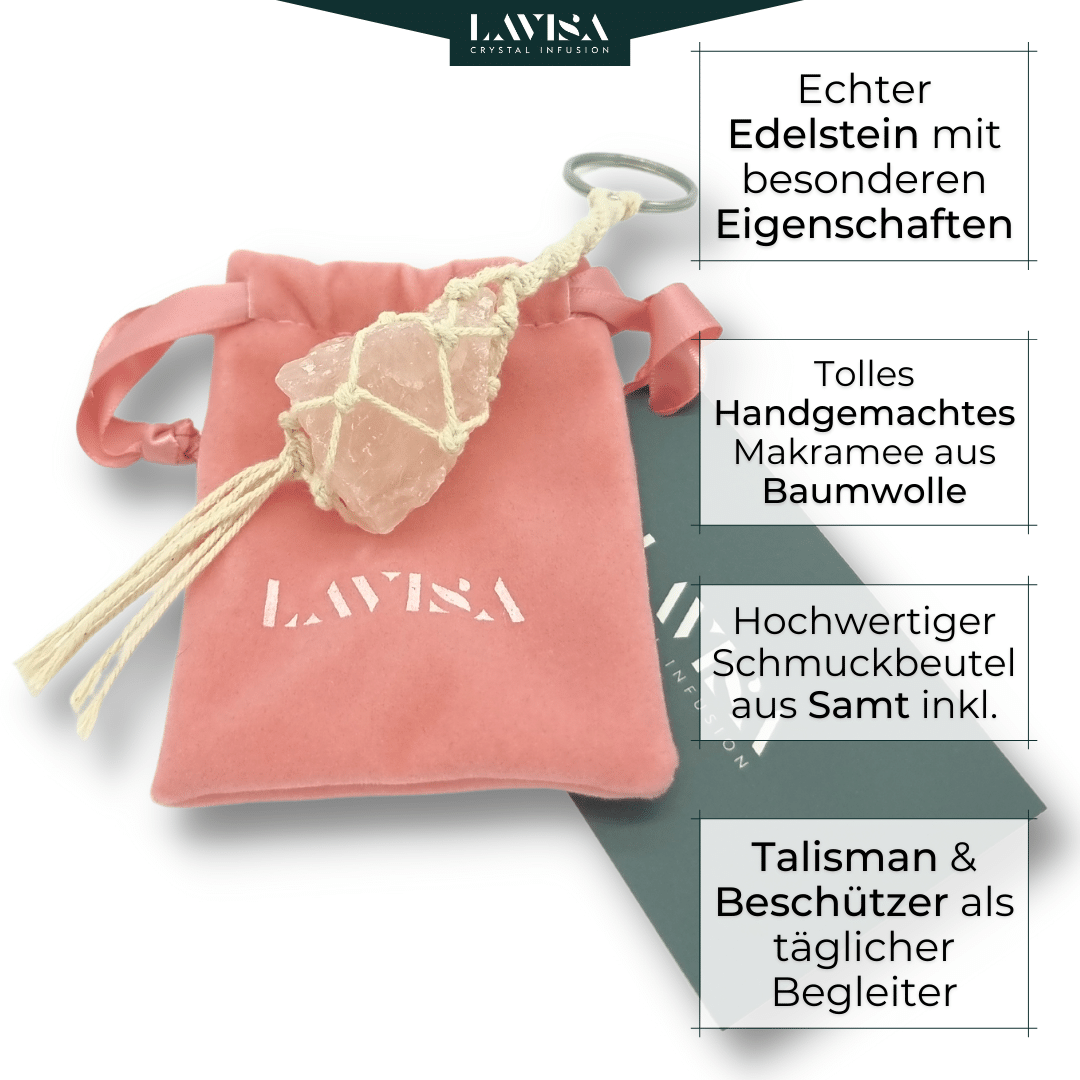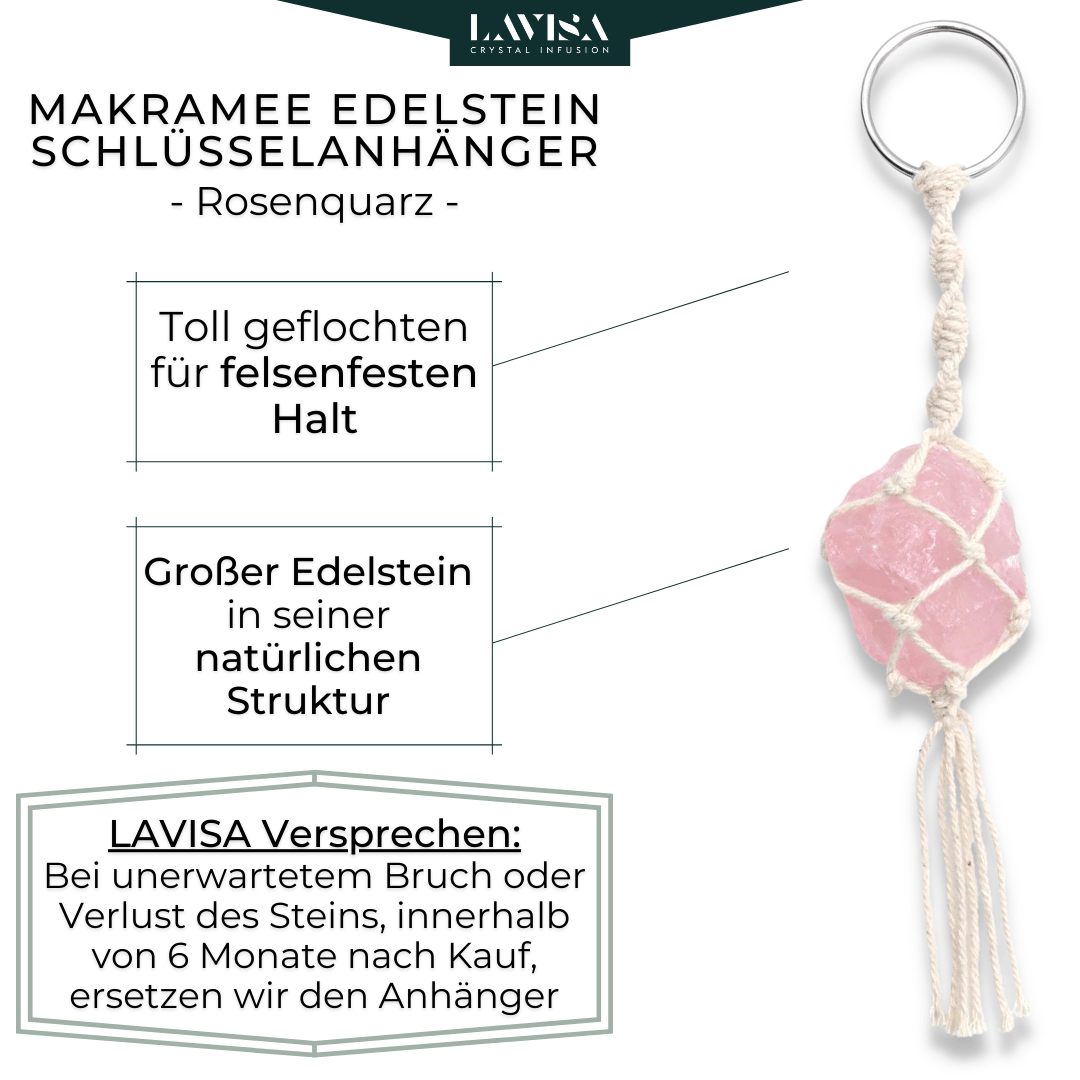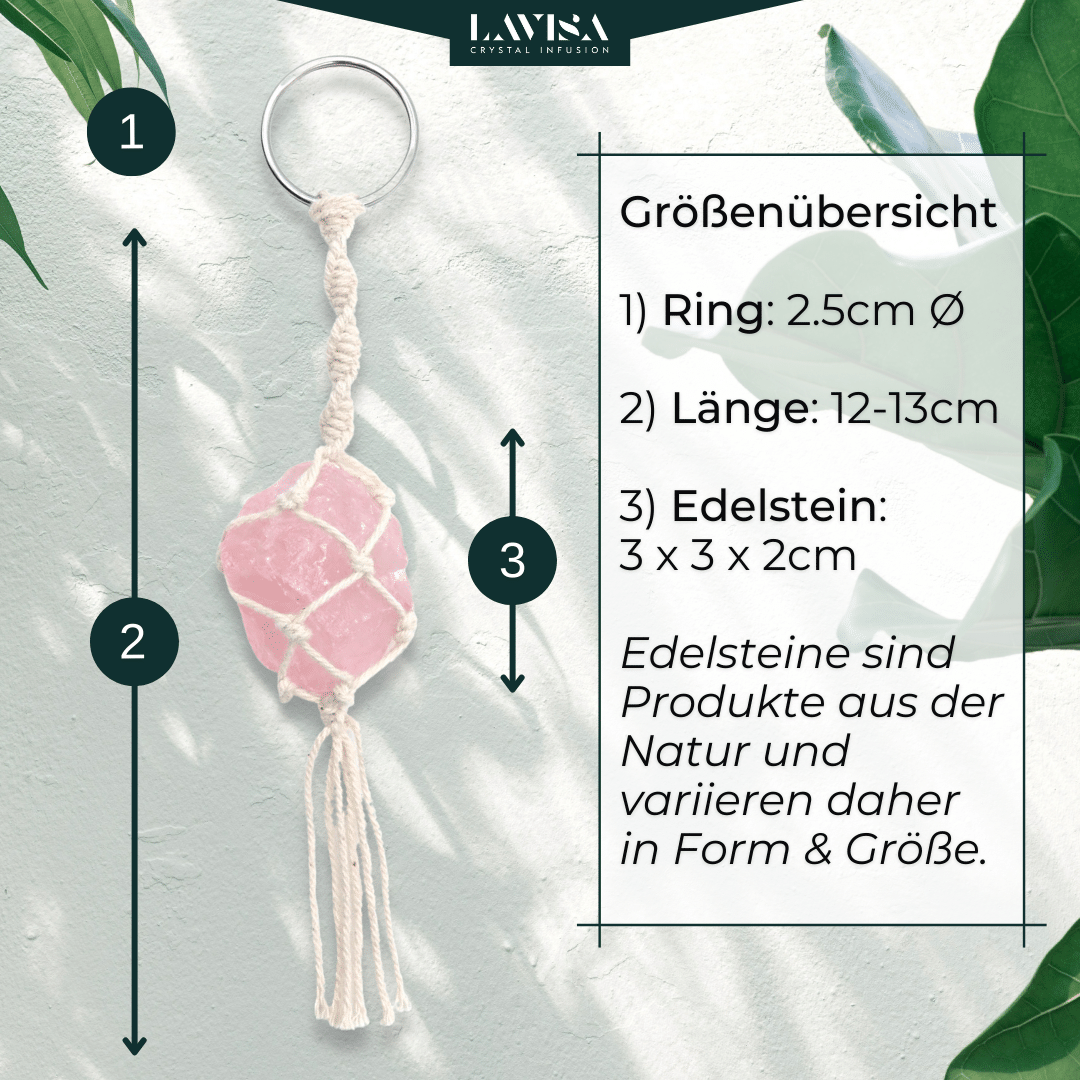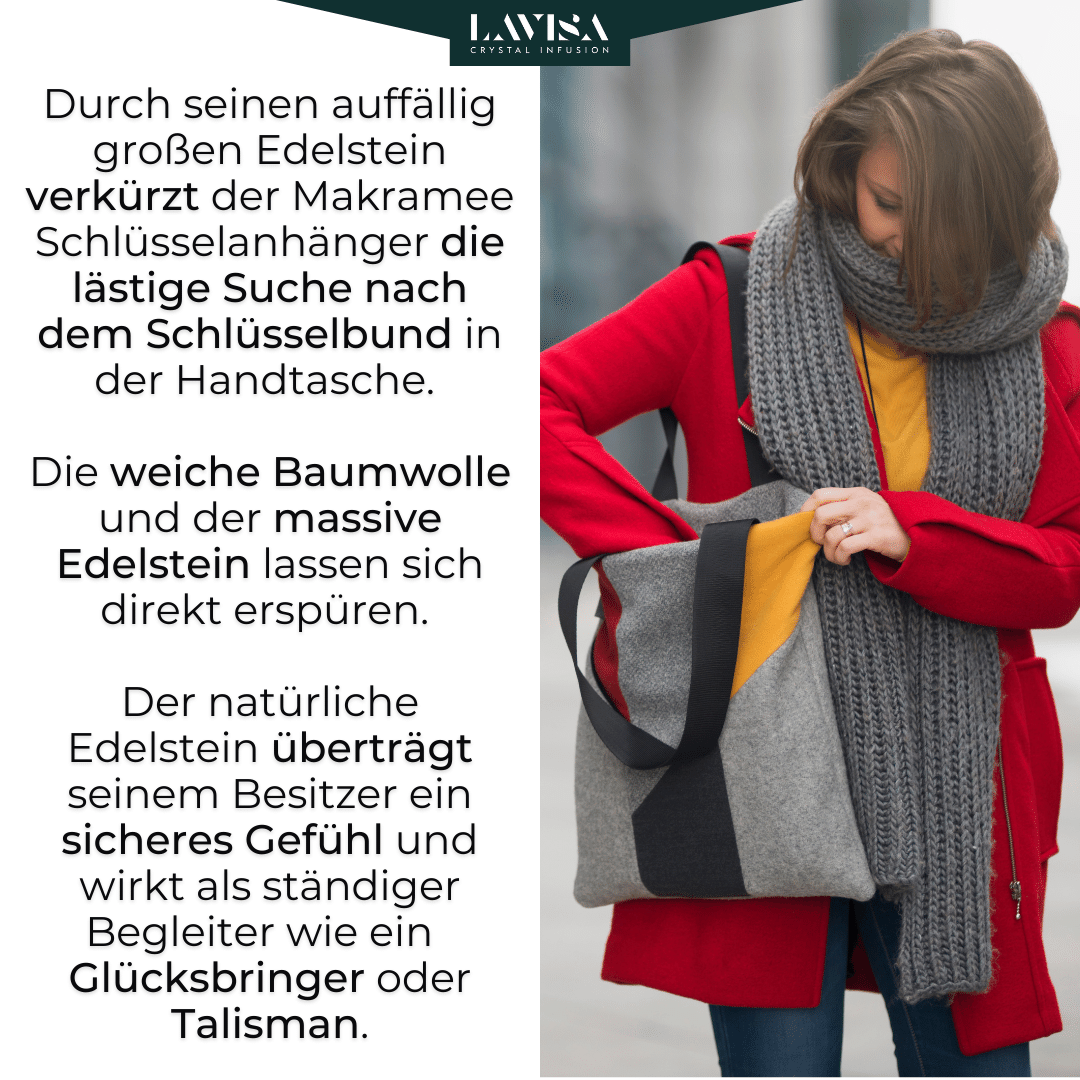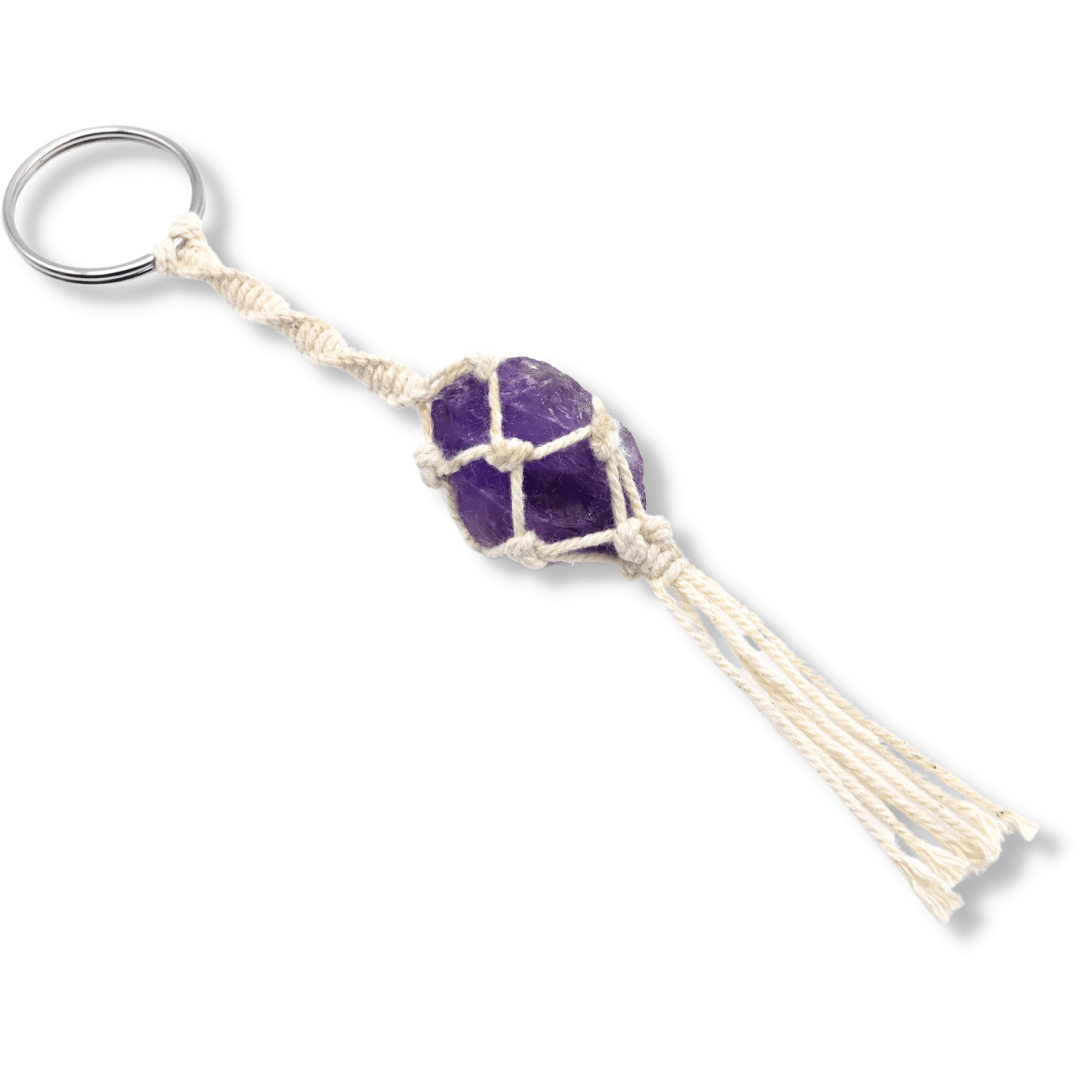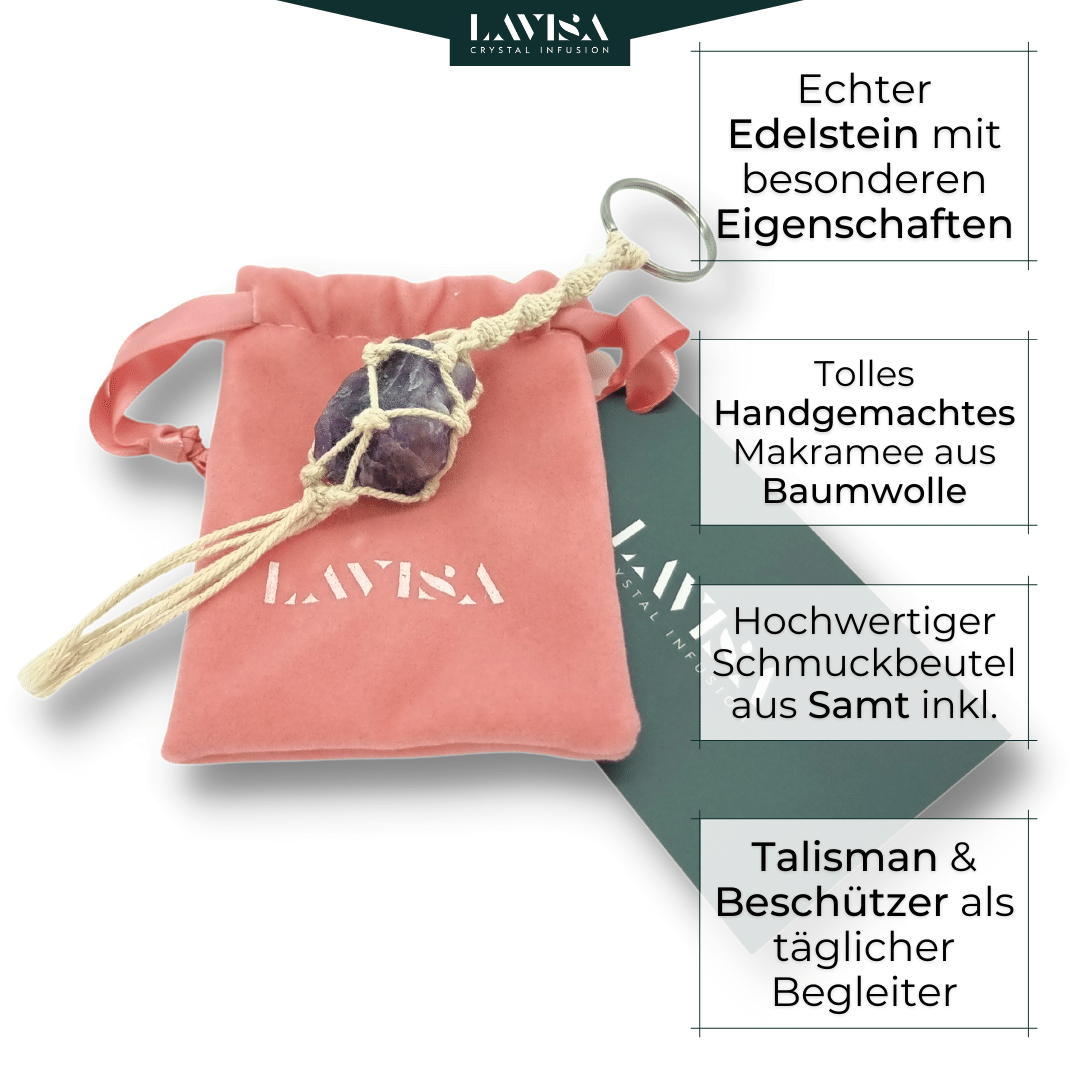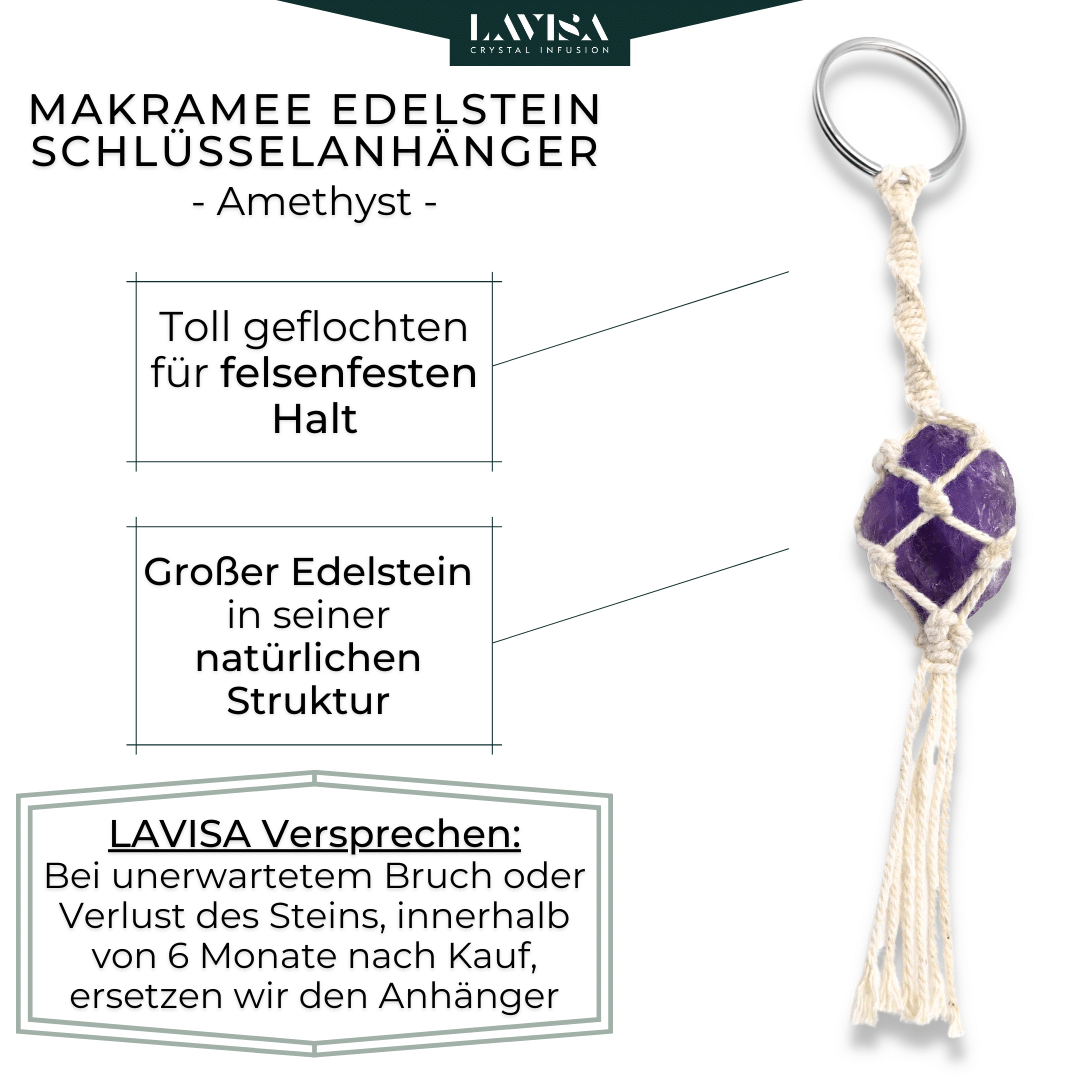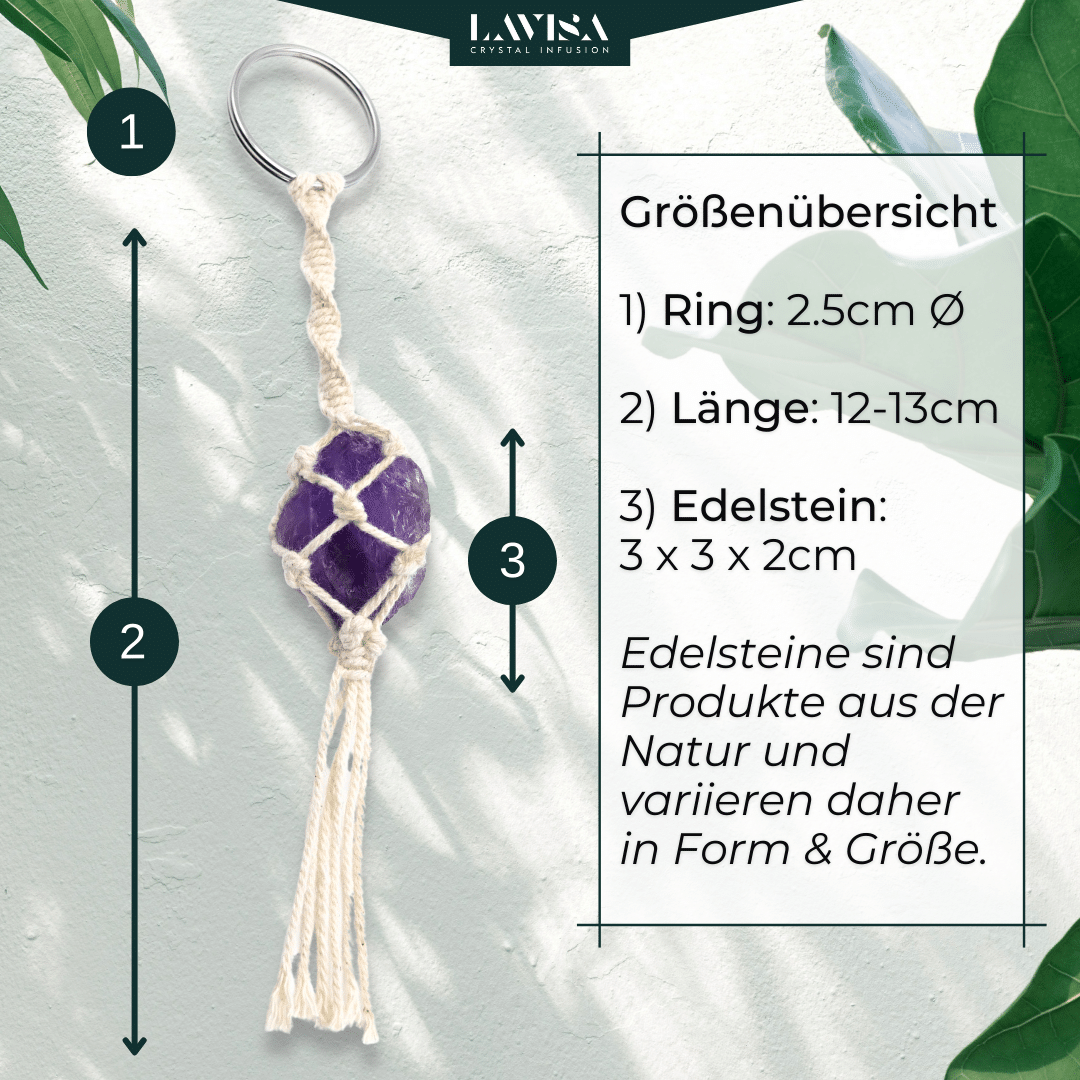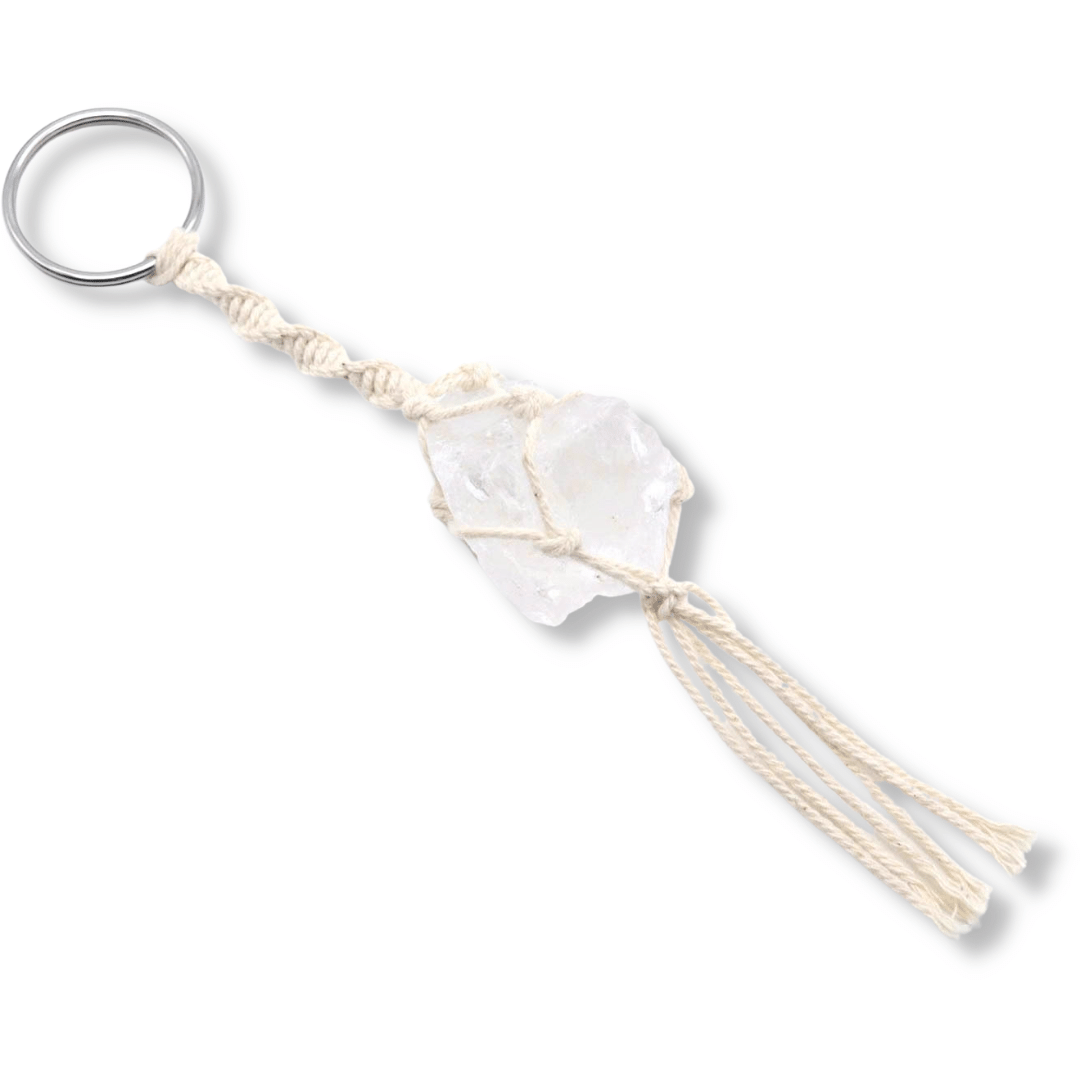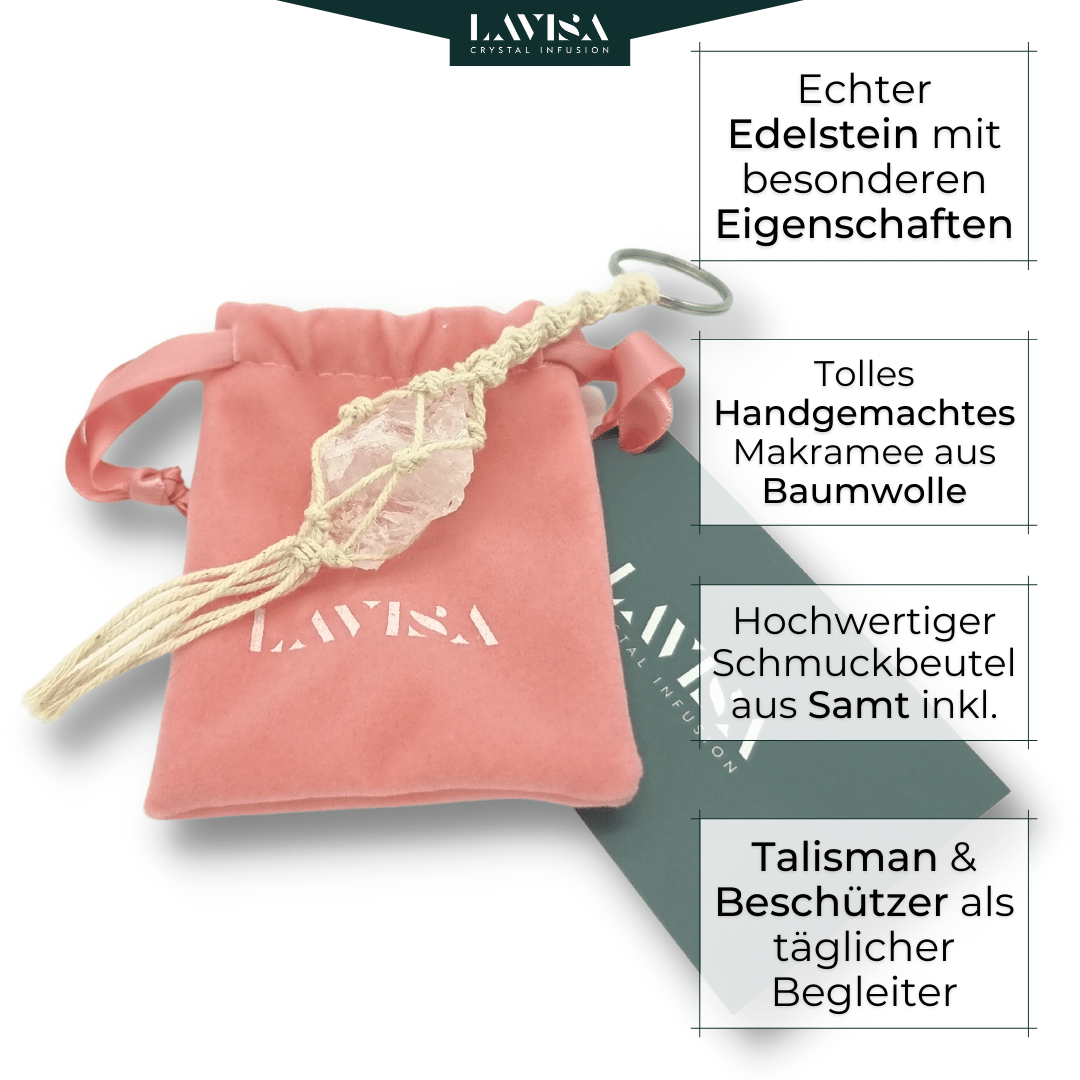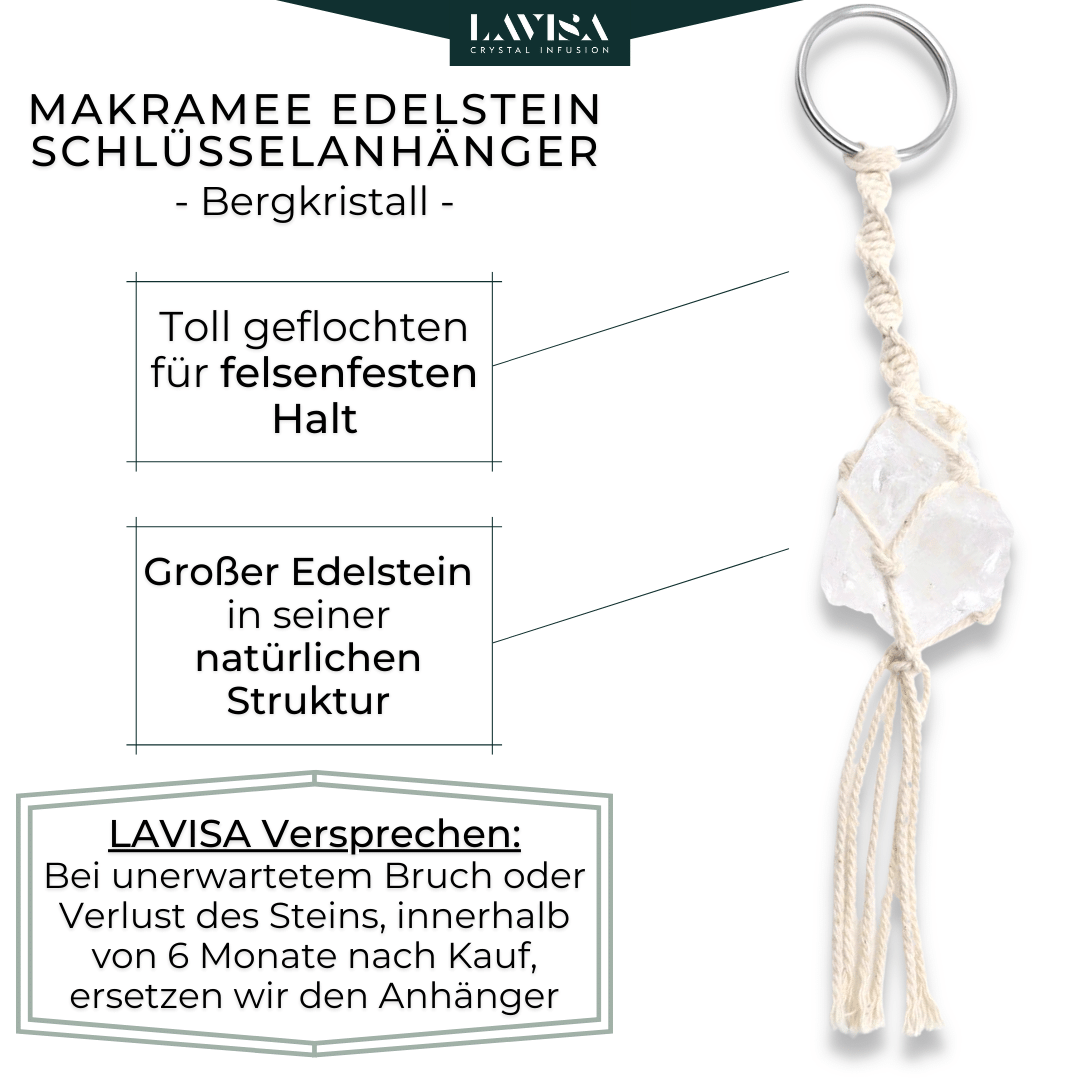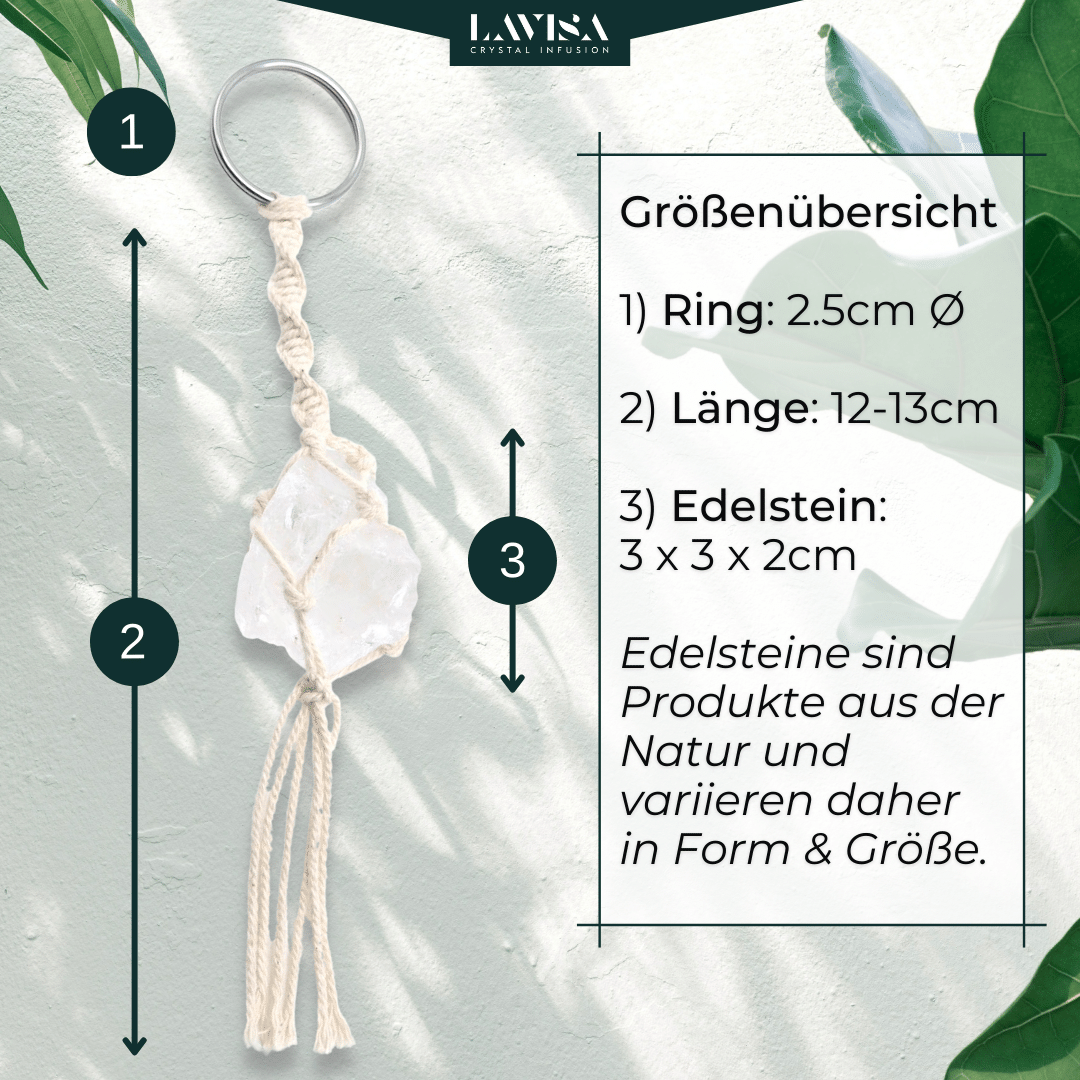 Macrame keychain
Geld-zurück Garantie
Schneller Versand aus Deutschland
Garantiert echte Edelsteine
For gemstone lovers who prefer to carry their energy carrier with them at all times, our gemstone keychains are the most beautiful accessory from the gemstone world.
💎 The crystals are handpicked and the macrame is handmade.
💎 The pendant is approx. 12-13cm long, the crystal approx. 3 x 3 x 2 cm.
Scope of delivery The beautiful key fob with the gemstone of your choice is delivered in an antique pink velvet pouch, which is ideal as a gift wrap.
Unsere Makramee-Schlüsselanhänger sind ca. 12-13 cm lang, wobei der Edelsteinkristall selbst großzügige Abmessungen von etwa 3 x 3 x 2 cm aufweist. Diese Abmessungen verleihen dem Schlüsselanhänger eine imposante Präsenz und machen ihn zu einem auffälligen Accessoire, das die Blicke auf sich zieht.
Unsere Makramee-Schlüsselanhänger werden von uns in liebevoller Handarbeit gefertigt. Die Kristalle sind handverlesen, und jedes Makramee-Detail wird sorgfältig von erfahrenen Handwerkern gestaltet.
Um die Schönheit und Langlebigkeit deines Schlüsselanhängers zu bewahren, empfehlen wir, direkten Kontakt mit Wasser zu vermeiden. Bitte bewahre den Anhänger an einem trockenen Ort auf und trage ihn mit Sorgfalt, um seine natürliche Eleganz zu bewahren. Damit wirst du lange Freude an diesem einzigartigen Accessoire haben.
Delivery and shipping costs 
Would you like to track your shipment?
✔ DHL : Click here and enter your tracking number that you received by email.
Our shipping costs at a glance:
✔ Shipping costs within Germany
From a goods value of EUR 25.00 we deliver parcels within Germany free of charge *. Below this value, we charge a flat rate of EUR 4.90 per order for shipping within Germany.
✔ Shipping costs within the EU
Of course, we also deliver your order quickly and easily to many EU countries. In addition to the stated prices, we charge for the delivery, regardless of the weight:
From a goods value of EUR 99.00 we deliver packages free of charge . From a goods value between 50.00 - 99.00 EUR we deliver packages for 4.99 EUR . Below the goods value of EUR 50.00 we charge a flat rate of EUR 8.99 .
shipping service provider
Your package order will be sent by the shipping service provider Deutsche Post (DHL).
Please note : If the package is refused, you will have to pay the shipping costs for a new delivery. We thank you for your understanding.
Delivery of packages
We will process your order as soon as possible. You will receive your goods within Germany within 2-3 working days or in the case of advance payment within 2-3 working days after receipt of payment. The delivery time abroad is 3-6 working days after receipt of payment.
You will receive an email when the ordered goods leave our premises. If you have not received your order one week after receipt of this e-mail, please send us a message to service@lavisa.de . We will then check your order immediately.
Please understand : As soon as a package is handed over to a shipping service provider, ie leaves our warehouse, we unfortunately no longer have any influence on the shipping delivery time. Please check your tracking number for more information on shipment status (see link below). Shipping delays may sometimes occur with DHL. We are happy to help you to check where your package is or where or to whom it has been delivered, for example. Unfortunately, we cannot influence the speed of the delivery process.