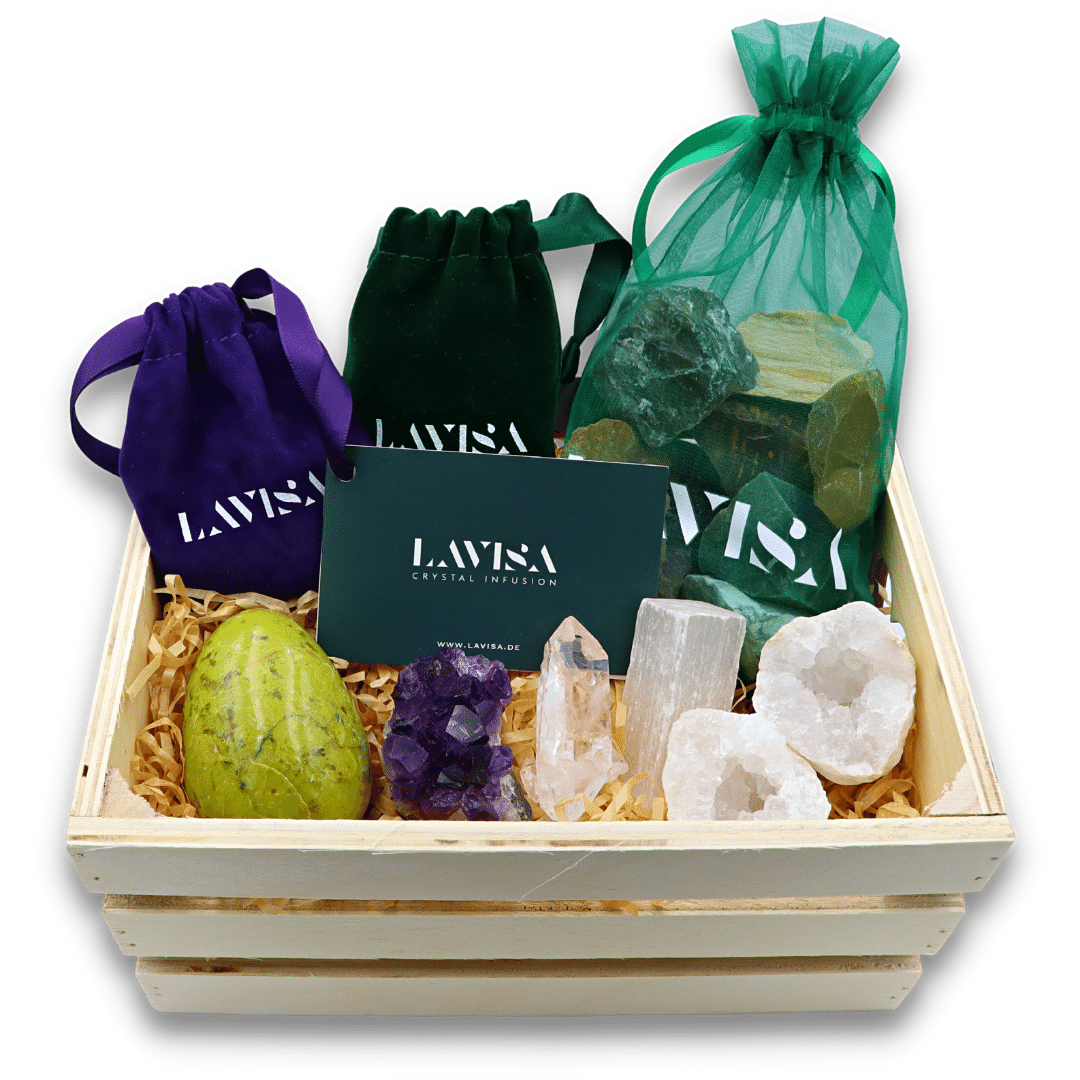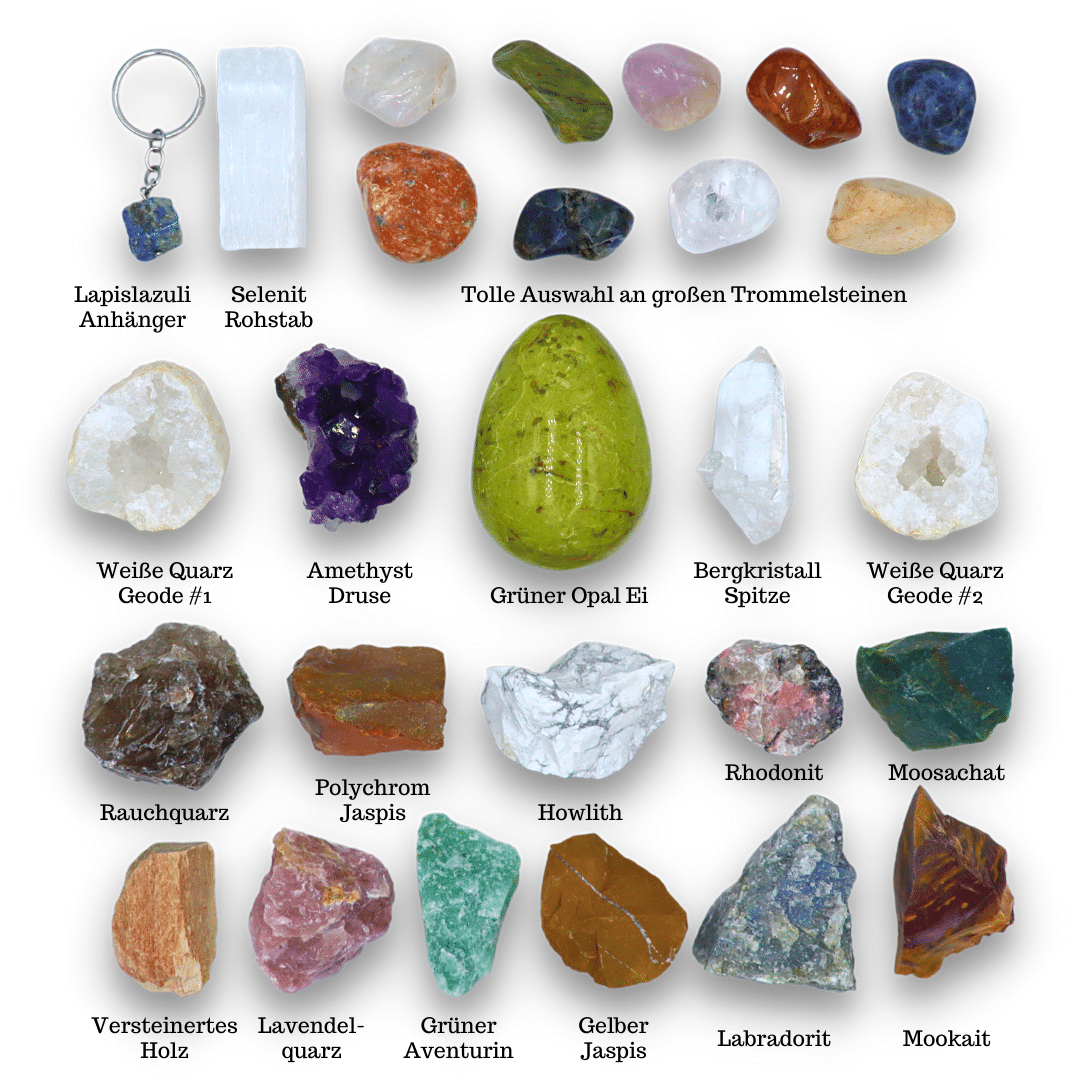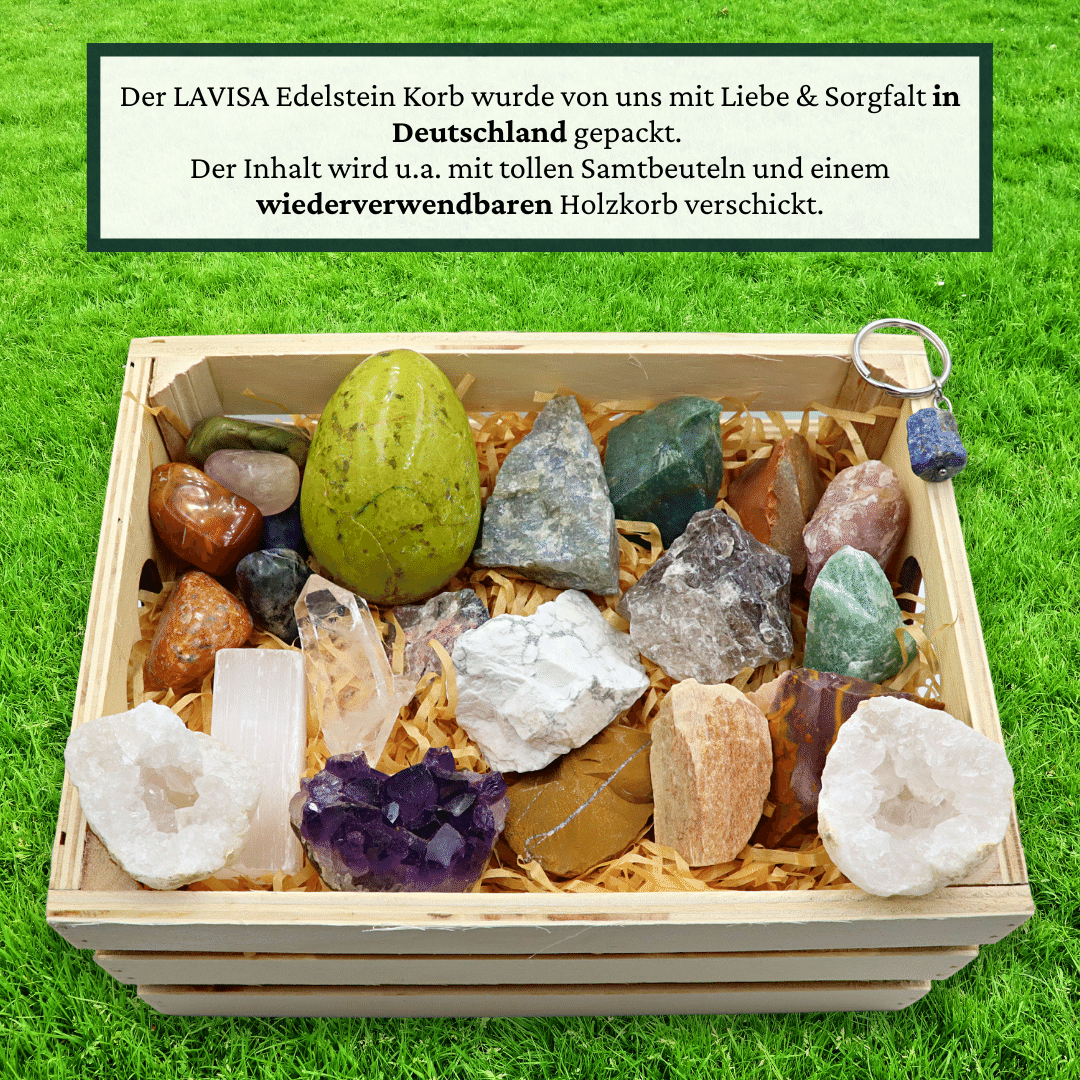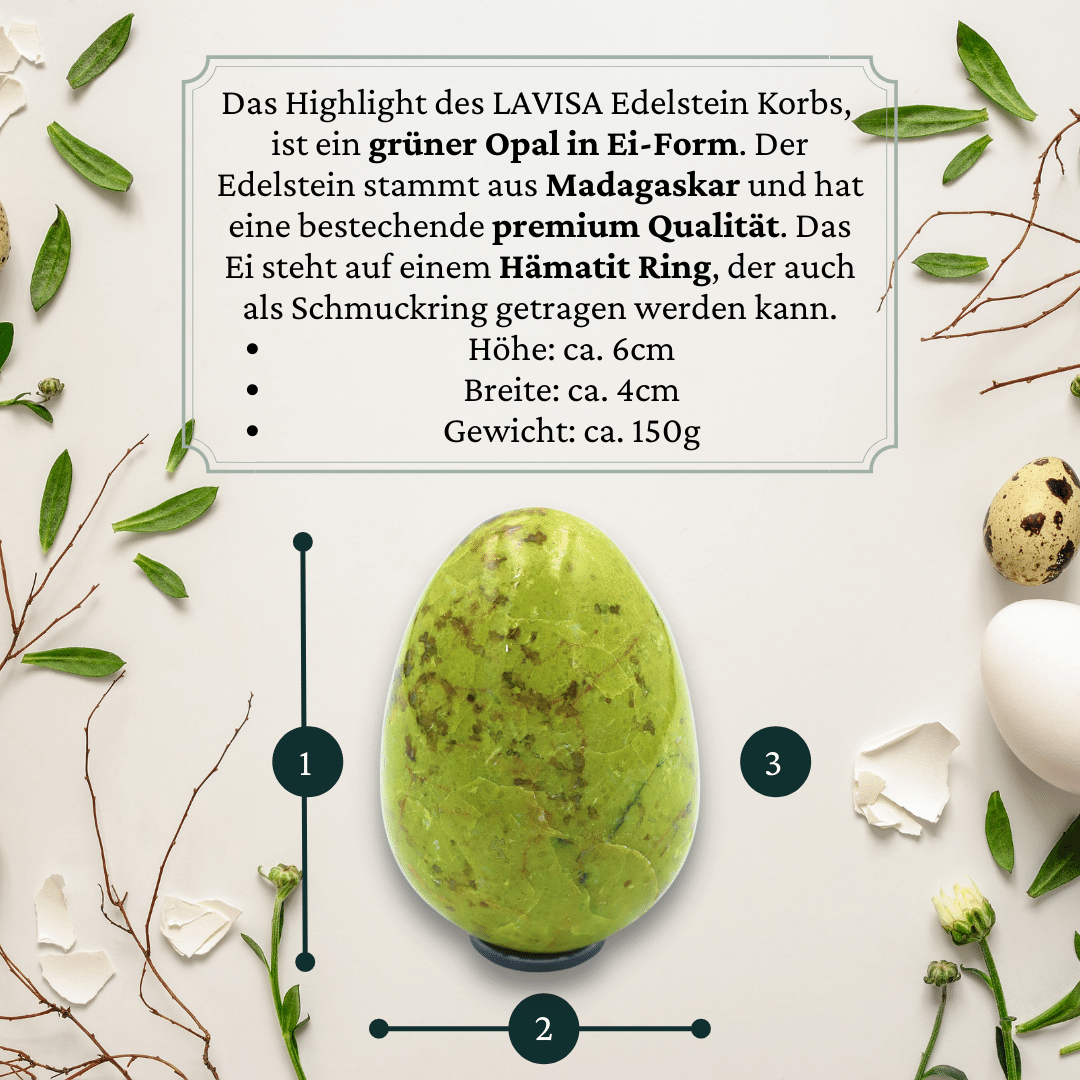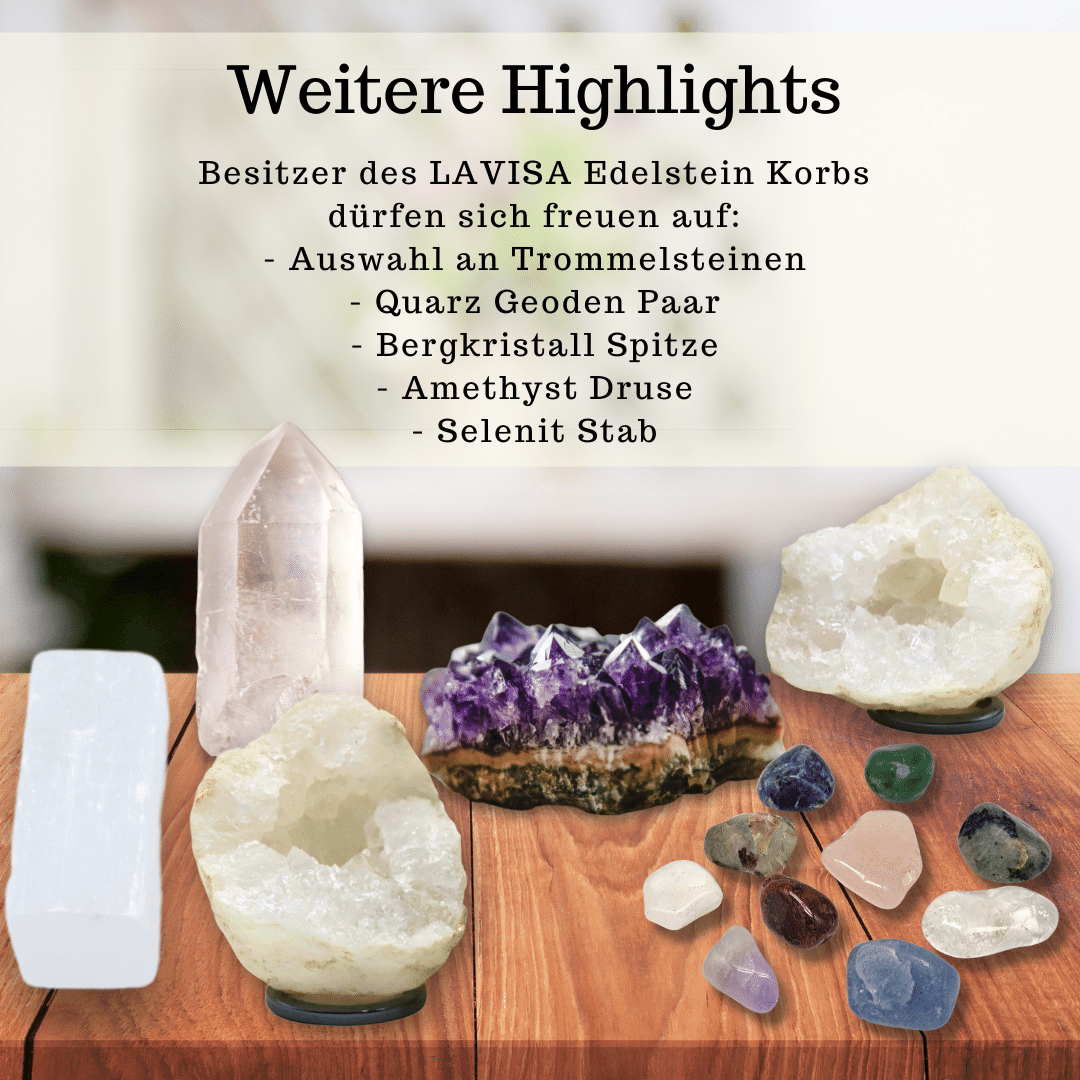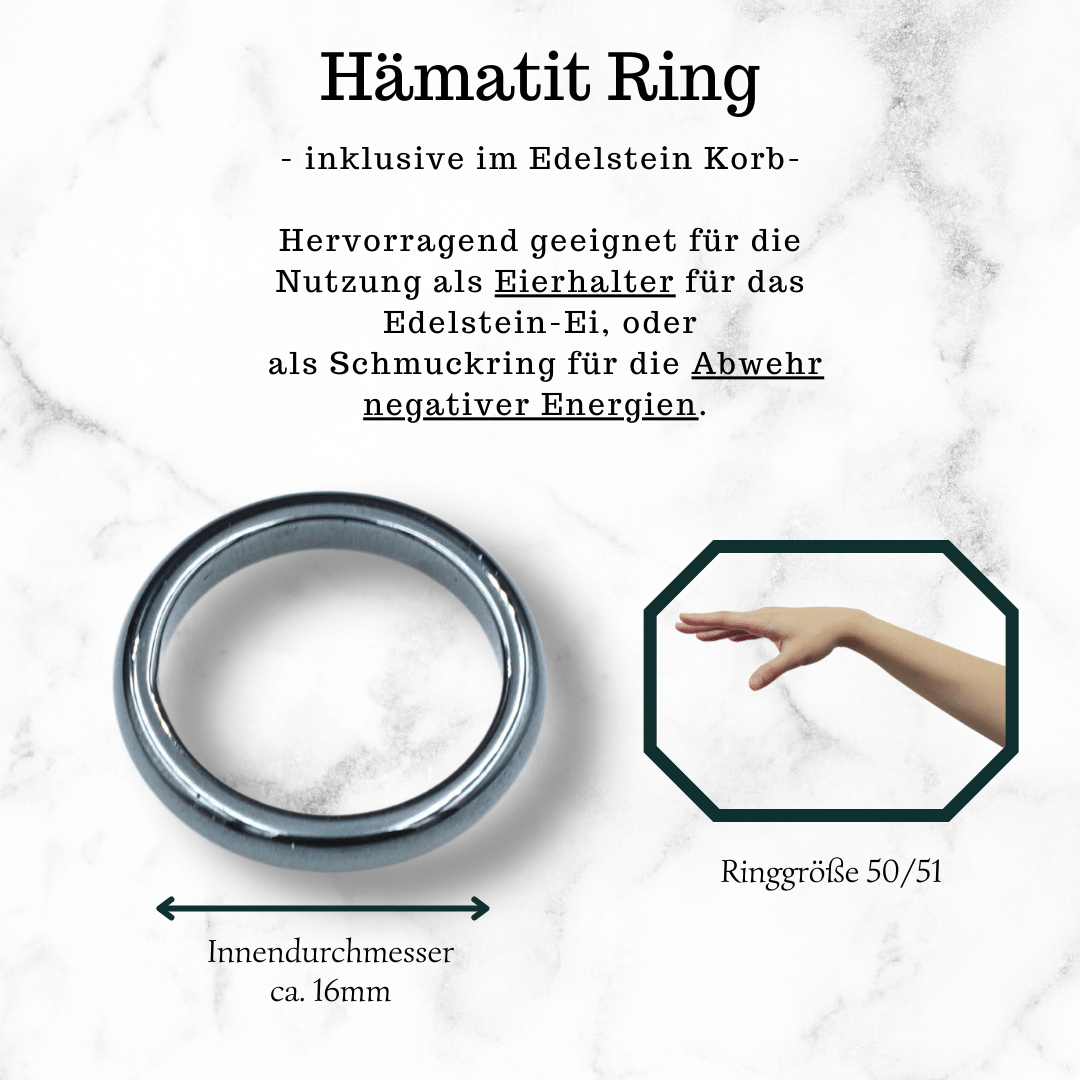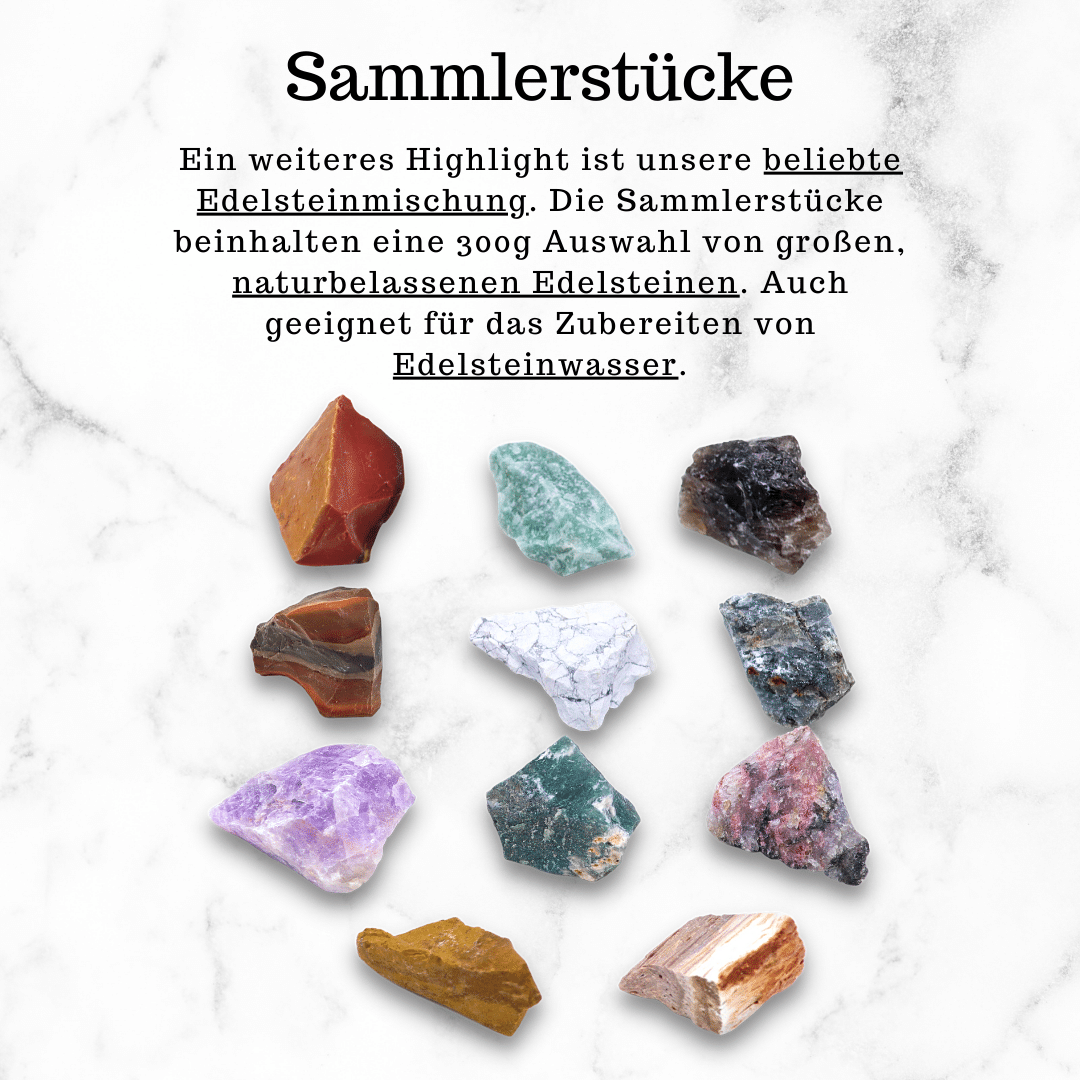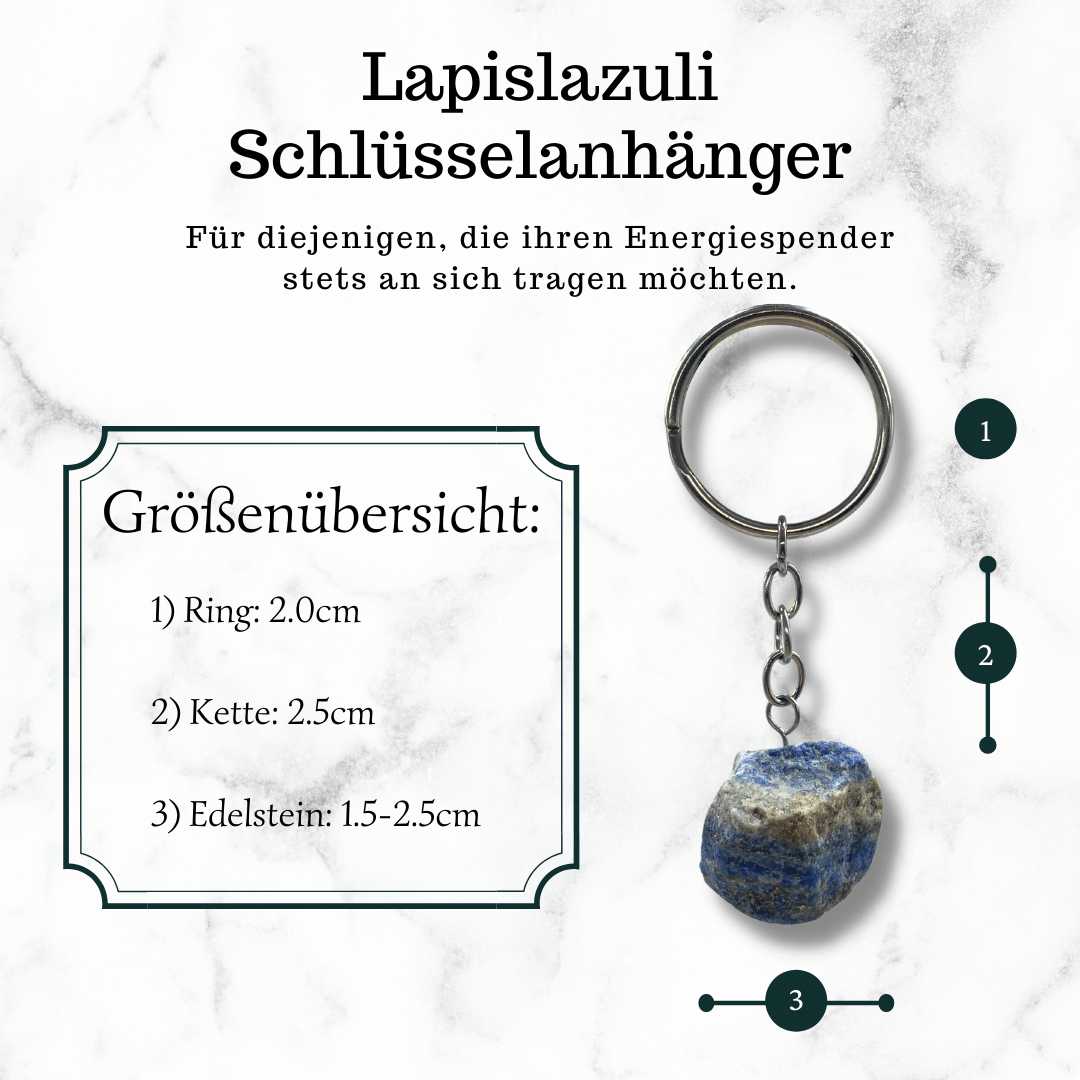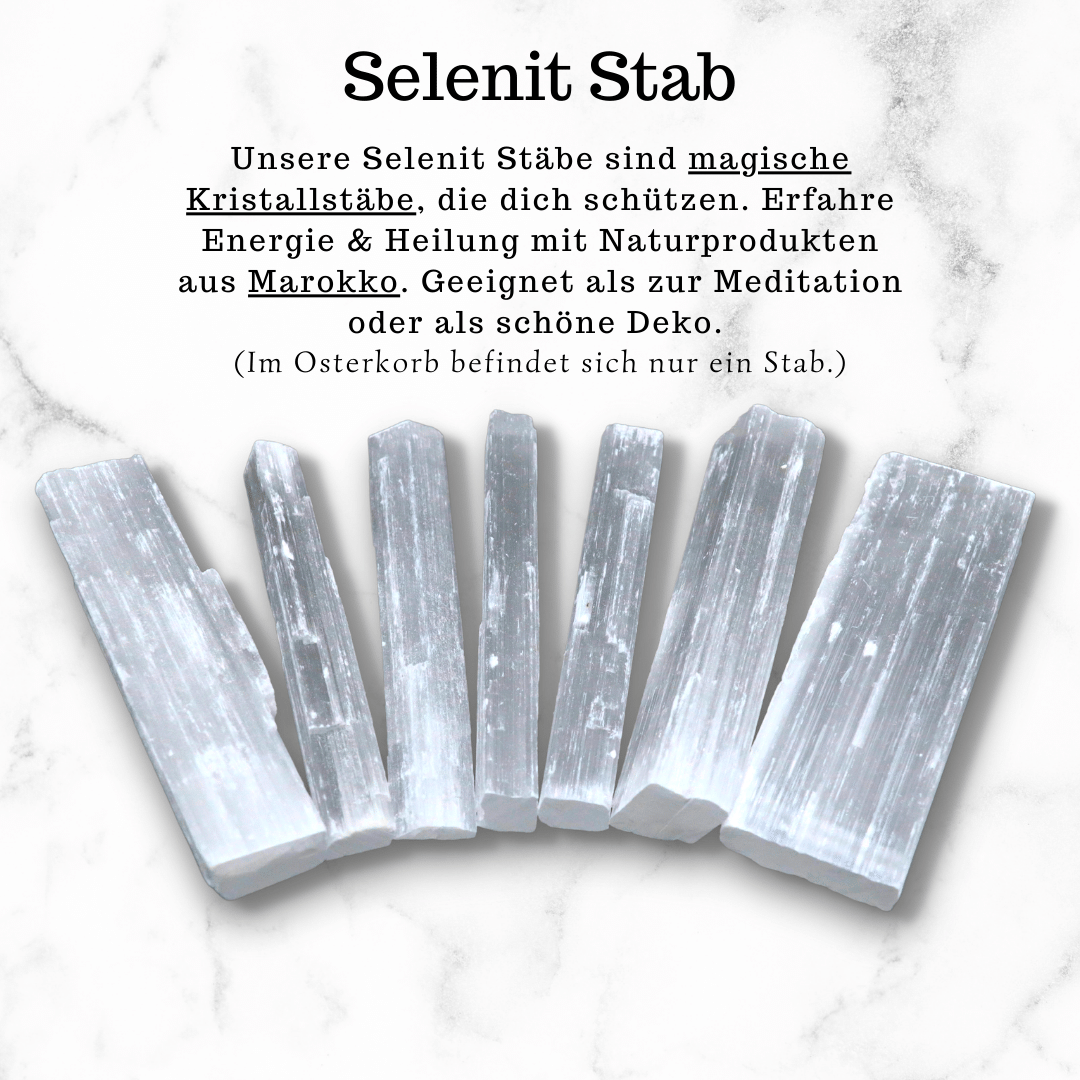 Gem basket for collectors
Geld-zurück Garantie
Schneller Versand aus Deutschland
Garantiert echte Edelsteine
The LAVISA gemstone basket offers everything your heart desires!

Contents of the basket:
Impressive green opal as gem egg
300g natural gemstones
150g tumbled stones
quartz geodes
Rock crystal tip
amethyst druse
selenite rod
hematite ring
Lapis lazuli keychain
To reuse: velvet bag and beautiful wooden basket
The highlight is a green opal in the shape of an egg. The gem comes from Madagascar and has an impressive premium quality. The egg stands on a hematite ring, which can also be worn as a jewelry ring.

Height: about 6cm
Width: about 4cm
Weight: about 150g
Whether suitable for Easter or all year round, the gemstones have a special effect on those who see them and are a real alternative to chocolate! The contents will be sent with great velvet bags and enough padding.
100% money back guarantee if you don't like it. This is what we stand for with our proven brand!
Maße des Edelstein Korbs:
Länge: 30,7 cm
Breite: ca. 22,4 cm
Höhe: ca. 11,6 cm
Gewicht: ca. 1,19 Kg
Maße des Edelstein-Ei:
Breite: ca. 4 cm
Höhe: ca. 6 cm
Gewicht: ca. 150 g
Material:
Natürliche Edelsteine: Jeder Edelstein im Korb ist ein Produkt der Natur und trägt seine einzigartige Energie. Die Auswahl umfasst einen beeindruckenden grünen Opal als Edelstein-Ei, der aus Madagaskar stammt und höchste Premium-Qualität aufweist.
Hämatit Ring: Der grüne Opal steht auf einem Hämatit Ring, der nicht nur als Basis dient, sondern auch als Schmuckring getragen werden kann.
Samtbeutel & Holzkorb: Die enthaltenen Schätze werden in hochwertigen Samtbeuteln geliefert, die zusammen mit dem wunderschönen Holzkorb auch zur Aufbewahrung und Präsentation genutzt werden können.
Pflegehinweise:
Sanfte Reinigung: Um die natürliche Schönheit der Edelsteine zu bewahren, empfehlen wir, sie gelegentlich mit einem weichen, trockenen Tuch abzuwischen, um Staub oder Fingerabdrücke zu entfernen.
Schutz vor Stößen: Edelsteine können empfindlich auf Stöße reagieren. Achte darauf, den Korb vorsichtig zu behandeln, um Beschädigungen zu verhindern.
Vermeide Chemikalien: Kontakt mit aggressiven Chemikalien, Reinigungsmitteln oder Parfüms kann die Edelsteine beeinträchtigen. Trage den Korb ab, bevor du solche Substanzen verwendest.
Liebevolle Aufbewahrung: Wenn der Korb nicht verwendet wird, bewahre ihn in einem trockenen und geschützten Bereich auf, um die Qualität der enthaltenen Edelsteine zu erhalten.
Die Kombination aus hochwertigem Material und sanfter Pflege wird sicherstellen, dass du lange Freude an diesem Edelstein Korb haben wirst. Die natürliche Energie und Schönheit der Edelsteine bleiben somit erhalten, während du gleichzeitig die beeindruckende Vielfalt der Natur genießt.
Delivery and shipping costs 
Would you like to track your shipment?
✔ DHL : Click here and enter your tracking number that you received by email.
Our shipping costs at a glance:
✔ Shipping costs within Germany
From a goods value of EUR 25.00 we deliver parcels within Germany free of charge *. Below this value, we charge a flat rate of EUR 4.90 per order for shipping within Germany.
✔ Shipping costs within the EU
Of course, we also deliver your order quickly and easily to many EU countries. In addition to the stated prices, we charge for the delivery, regardless of the weight:
From a goods value of EUR 99.00 we deliver packages free of charge . From a goods value between 50.00 - 99.00 EUR we deliver packages for 4.99 EUR . Below the goods value of EUR 50.00 we charge a flat rate of EUR 8.99 .
shipping service provider
Your package order will be sent by the shipping service provider Deutsche Post (DHL).
Please note : If the package is refused, you will have to pay the shipping costs for a new delivery. We thank you for your understanding.
Delivery of packages
We will process your order as soon as possible. You will receive your goods within Germany within 2-3 working days or in the case of advance payment within 2-3 working days after receipt of payment. The delivery time abroad is 3-6 working days after receipt of payment.
You will receive an email when the ordered goods leave our premises. If you have not received your order one week after receipt of this e-mail, please send us a message to service@lavisa.de . We will then check your order immediately.
Please understand : As soon as a package is handed over to a shipping service provider, ie leaves our warehouse, we unfortunately no longer have any influence on the shipping delivery time. Please check your tracking number for more information on shipment status (see link below). Shipping delays may sometimes occur with DHL. We are happy to help you to check where your package is or where or to whom it has been delivered, for example. Unfortunately, we cannot influence the speed of the delivery process.